Deuce Vaughn: KSU's alpha male of the backfield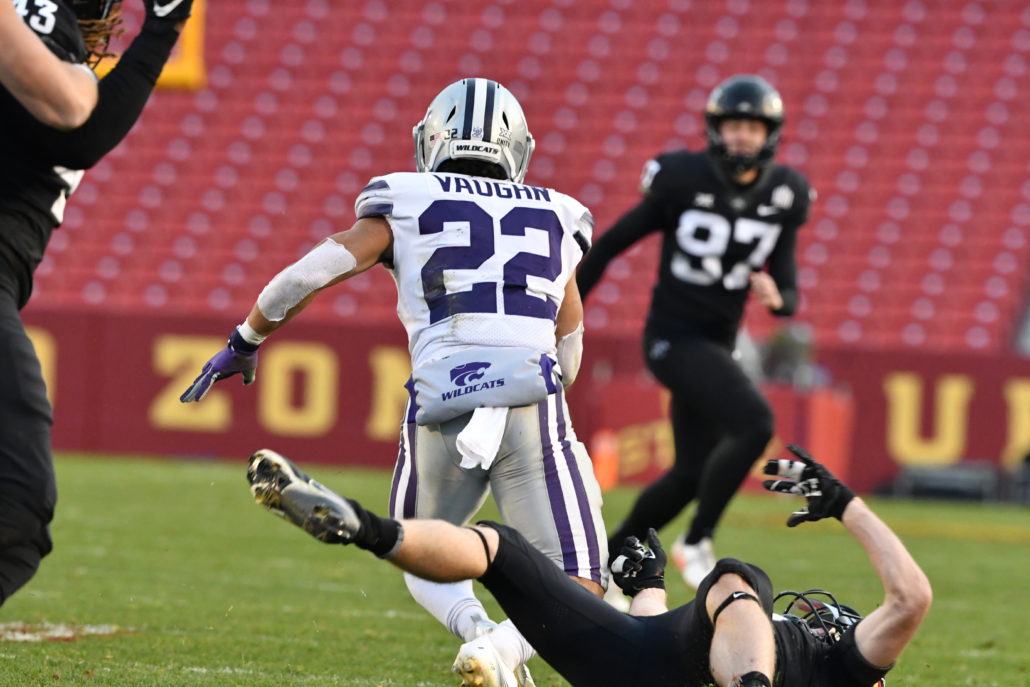 MANHATTAN, Kan. — When Kansas State struggled down the stretch last season, the all-purpose rusher became the focal point of the offense and remained consistent.
Deuce Vaughn led the Wildcats in rushing and receiving yards as a true freshman. The Texas native also finished No. 1 on the team in carries, receptions and touchdowns on the ground. Vaughn made a big splash on the league and was named the Big 12's Offensive Freshman of the Year.
Now Kansas State fanatics are wondering what the elusive slasher has in store for an encore this fall. The Wildcats are at the midpoint of spring ball and Vaughn is embracing his leadership role in the running back room. He's enjoying practice with fellow teammate Joe Ervin, but acknowledges how much youth is in the unit.
The two have been working on their explosiveness and love to push each other. It's why Vaughn took initiative to provide the other rushers with direction, plus the responsibility that comes with the territory.
"I'm still taking strides in the mental game, going through everything and making sure I'm able to see more pictures," Vaughn said. "Getting my pre-snaps down when you come out, especially whenever you're running routes out of the backfield."
After a season on the gridiron Vaughn understands the difference between zone and man coverage when he's catching passes. He's focusing more on the mental aspect, with reps and the playbook. Blocking is another area Vaughn is trying to improve. After all, taking on blitzing linebackers and edge rushers is challenging when an individual only stands five-foot-five. So he's working on his lower body strength and gaining weight this spring.
Vaughn has bulked up from 168 pounds to 175 and that's what he plans on playing at this fall.
"I feel the best I've ever felt in my life as far as running," he said. "I haven't lost any speed, if anything I feel more explosive because of that."
That's a scary thought for opposing Big 12 defenders, considering how dangerous Vaughn is with his legs and hands. With three 100-yard rushing games under his belt, plus a 100-yard receiving performance against Oklahoma, he's hungry for more this time around.
"Just working on my second and third level moves," Vaughn said. "To take 15 and 20-yard gains into 70-yard gains and even more."
Vaughn knows the more effective he is with moving the chains, the more attention he'll take off the quarterback. Flanking out in motion and making a defense think twice on where he's going to line up could also be an advantage for the Wildcats. Vaughn has been impressed with the quarterbacks thus far. Skylar Thompson continues to make progress and Will Howard's confidence is growing with every throw.
Most importantly, Vaughn has put last season's struggles in the rearview mirror. He's not concerned with any accolades this fall. All he wants is for his team to get better and have a winning season. Vaughn is his own worst critic and has yet to reach his ceiling.
"I feel like I played pretty well, with a lot of room for improvement, which is really exciting," he said. "Because I feel like with this coaching staff and my teammates, I can take those strides even bigger through this offseason."