James Franklin thrilled for spring after 2020's fiasco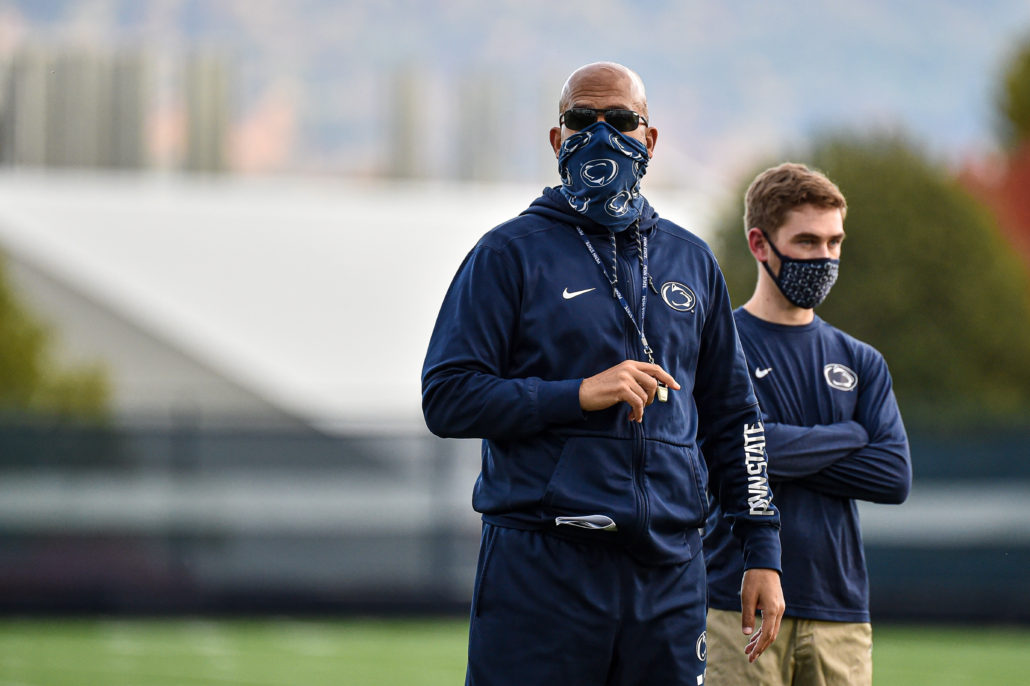 STATE COLLEGE — Last season the Nittany LIons started 0-5 in conference play for the first time since 2004.
Considering Penn State was ranked in the top-10 entering 2020, there's no denying the campaign was a humbling experience for the players, coaching staff, athletic department and fans. James Franklin's team quickly became the poster boys for underachievers.
However, the Nittany Lions picked up the pieces down the stretch and won their final four games. Not to mention they succeeded in the classroom with 29 players earning Academic All-Big Ten honors. Which is why Franklin is excited that his squad has finally started spring training.
The 49-year old briefed reporters over the state of the program Tuesday afternoon and how he doesn't have a chip on his shoulder this spring. Instead Franklin and his players are all embracing the opportunity to be back on the gridiron with each other. Especially since they had no spring action a year ago and are coming off a losing season.
Last year's adversity taught Franklin life lessons and helped him grow as an individual. Being away from his family took a toll on him mentally as the team navigated through their schedule. Now he has all of his loved ones back with him, but Franklin resides in the garage of their home  and practices social distancing.
"I always knew I was a family guy, obviously going through last year magnified that," Franklin said. "We're in a better situation now, still not what I would describe as ideal or back to normal."
The vibe around campus is definitely more positive. Franklin appreciates the support from former players and Penn State's Board of Trustees giving the green light on upgrading the facilities. After all, he knows what Nittany Lion football means to the community, athletic department  and University as a whole.
On the field it has been all work and no play for the Nittany Lions. Like all coaches around the Power Five Franklin is working on establishing depth on both sides of the ball.
"I'm really excited about practice today for spring ball," Franklin said. "We're excited about that, as we continue to make strides from a facility standpoint and all the things that we need to do building Penn State football."
Franklin believes this is the heaviest team he's had to this point and everyone is up at least four pounds. What he hopes to accomplish this spring is to get everyone on the same page, so they know the expectations and standards. He's going over everything full throttle with his players and staff.
"Obviously some things we want to get accomplished is confidence, chemistry and leadership," he said. "Offensive ball security, defensive ball disruption, and we want to take time teaching situational football in detail."
It all starts with the quarterback situation. Penn State only has three signal-callers on scholarship. Sean Clifford threw 11 touchdowns and eight interceptions through the Nittany Lions' losing streak. He did play better during the win streak, with five touchdown passes and one interception.
It's something Franklin believes has helped Clifford's maturation process approaching this spring. Regardless, the lack of experience at receiver and injuries with the running backs didn't help Clifford's cause. Franklin is a firm believer that more help at the skill positions will take Clifford's game to new heights.
"I think Sean is motivated, but he's always motivated," Franklin said. "He's a guy that prepares at and extremely high level, it's very important to him because he's extremely competitive."
The good news for the offense is running back Noah Cain is back on the sidelines, although he won't be ready until midway through spring training. The Nittany Lions are also still rounding up transfers. It's still up in the air on whether the Nittany LIons will have the Blue and White Spring Game. Franklin made it clear that they'll be scrimmaging on Friday and Saturdays over the next few weeks.
Above all, Franklin is glad to be back to doing what he loves best. Diving head-first into spring ball is a great way to stay afloat with the rest of the competition around the Big Ten.