Ekow Boye-Doe steady honing ball-hawking skills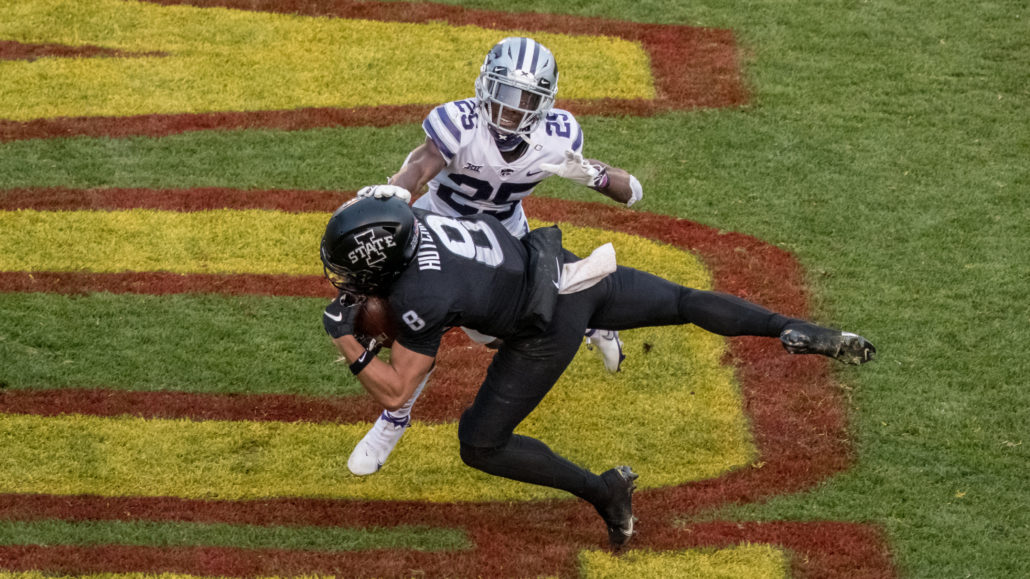 MANHATTAN, Kan. — Last season as a full-time starter he broke up seven passes for the Wildcats, but has yet to haul in his first career interception.
Ekow Boye-Doe still had a solid 2020 campaign from his cornerback position and tallied 25 tackles in eight games. The former three-star prospect touched the pigskin in seven of Kansas State's nine conference clashes. Now he's riding that wave of momentum into spring practice, hoping to improve on the gridiron.
"Last year I did get a lot of hands on balls, Boye-Doe said. "In practice it's just the start of spring, so I'm doing extra work with ball skills and drills."
Instead of being focused on the way the Wildcats ended 2020, he's very eager to move forward and put their shortcomings in the rearview mirror. Boye-Doe considers himself the new leader of Kansas State's secondary and he's pleased with the overall depth the unit has established.
Iowa transfer Julius Brents is participating in spring practice and Boye-Doe is enjoying the chemistry they're having. He's expecting the secondary as a whole to make tremendous strides over the next few weeks. The film room is just as important to Boye-Doe because he knows how beneficial learning and understanding formations can be.
The Wildcats are installing new wrinkles to the defense, but none the junior corner cared to share in detail. After the Wildcats finished 109th in the FBS in passing yards allowed, anything helps.
"We just go out there and try to get better everyday and try to get as much as we can out of each day," he said. "We're all excited to roll and keep getting better."
The Kansas native is also determined to gain weight over the spring. Right now he weighs 168 pounds, but his goal is to be around 175 in time for fall camp. There's nothing wrong with adding meat to the frame, just as long as the speed stays the same. Boye-Doe is hoping the extra weight will make him stronger also.
Leading by example is what he takes pride in. Just as much as Boye-Doe excels on the field, he does the same in the classroom and earned first-team Academic All-Big 12. He played his best game of 2020 in the win over Texas Tech. Boye-Doe recorded five total tackles, including four solo and broke up two passes in the matchup.
The Wildcats' coaching staff need their cornerback to maintain that consistency throughout the fall. Regardless of the matter, Boye-Doe has confidence in himself, his coaches and Kansas State's defense.
"We have the guys to fit a fast defense," Boye-Doe said. "We got ballhawks, guys that want to make plays, so I'm just really excited to showcase those talents and get things rollings."
Boye-Doe and the rest of Kansas State's secondary will face some of the best quarterbacks in the country in Big 12 play this fall. And judging from last year's statistics, the unit pretty much has nowhere to go but up.