Will Howard's big improvement stuns Chris Klieman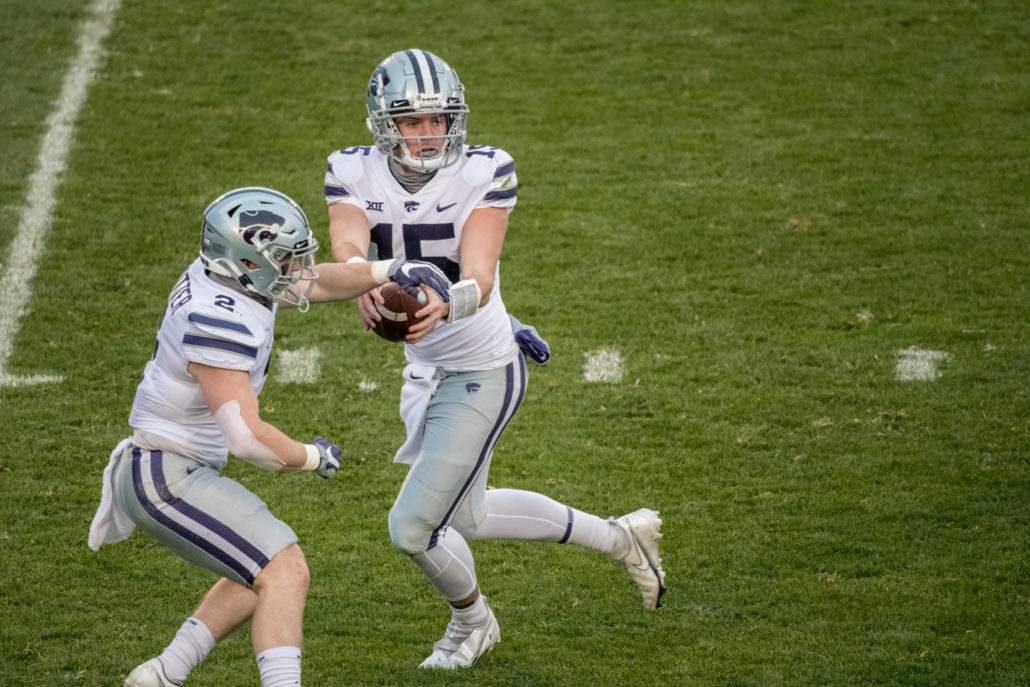 MANHATTAN, Kan. — Last year all he could do is watch as his true freshman quarterback struggled down the stretch.
Kansas State ended last season on a five-game losing streak and Will Howard led the Big 12 in interceptions. Despite the fact that the Wildcats had no spring practice, their best player sidelined with an injury and no bowl game in 2020, Chris Klieman still found solace in his second season.
After all, the Wildcats' 4-6 campaign wasn't as bad as it looked on paper. Klieman's team actually showed potential and won four of their first five games. Which is why this spring the coaching staff and players aren't taking anything for granted.
With all of the humility from last year now in the rearview mirror, the players couldn't wait to get their helmets and shoulder pads back on. Klieman watched how his squad assembled on the field through the first two practices last week, and he could tell they had a chip on their shoulders.
"Lots of energy, excitement out there, guys flying around, good communication, Klieman said. "Good bunch of guys out there to work with, and we're just excited to be back on the field."
One player who has caught his coach's attention is Howard. Klieman already expected his quarterback room to be highly competitive this spring. However, with Skylar Thompson limited in practice and still recovering from offseason surgery, Howard has utilized his reps.
"You have Will who played really good football and played a number of games, so we are excited to have him back," he said. "You can tell how much the weight room has helped Will."
Although Howard has Klieman's early praise, he still needs to watch over his shoulder this spring. Fellow signal-callers Jaren Lewis, Max Marsh and Jake Rubley are all hungry as well. Still, Klieman emphasized that there's no quarterback controversy, but instead quarterback competition and all of his players should embrace it.
Kansas State fans want to see the same Howard who outlasted Texas Tech, put the team on his back against TCU and shredded Kansas. Klieman knows those performances were promising and showed the Pennsylvania native's potential.
"I would say he's got a leg up because he's played seven or eight games, but we've got wide open competitions at so many positions," the 53-year old said. "Skylar, I think all of us envision him coming in and being the guy, but we also know that he's got to compete."
With all of the quarterbacks battling for reps the way wolves battle for food this spring, it'll be beneficial throughout fall camp. Pandemic complications, injuries and the transfer portal has trended towards a next man up mentality in College football. So there's no harm with a coach piling up as much depth as he can.
Above all, Klieman is glad to see some confidence back in Howard after last year's shortcomings. And he's pleased with the six-foot-four, 230-pounder's maturation process. The Wildcats have the weekend off before resuming practice in full pads Monday morning.