Brandon Joseph pushing new standards on defense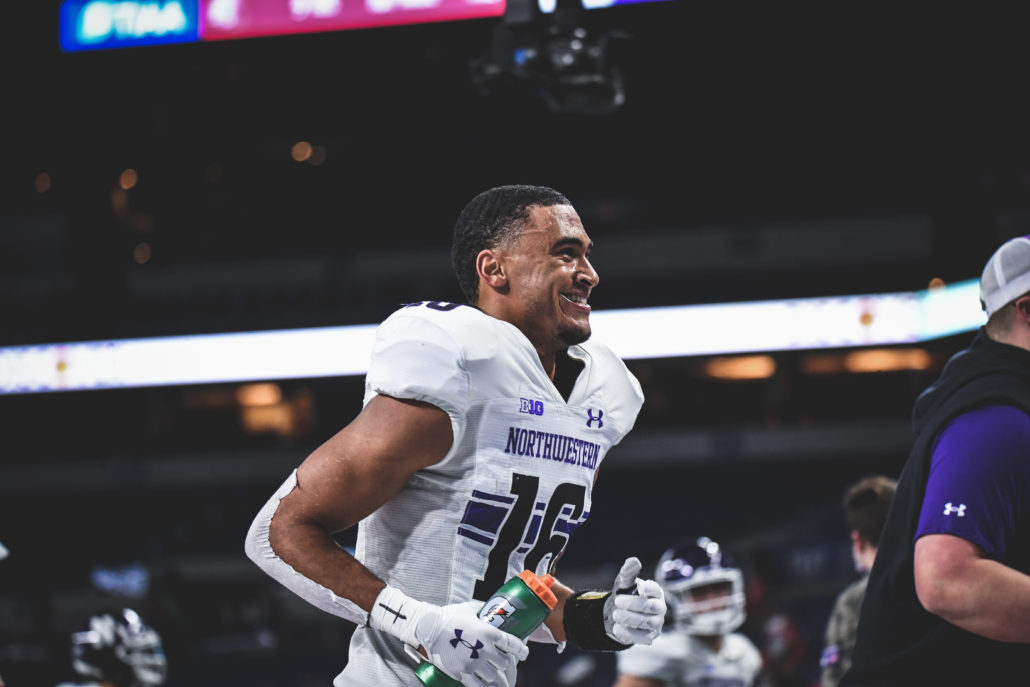 EVANSTON, Ill. — He's the only returning player in the Big Ten, who earned first-team All-America honors last season.
Brandon Joseph emerged from the shadows and made himself a household name in the league. The safety set the conference on fire after he picked off six passes in nine games, which tied for first in the FBS.
However, he wasn't named one of the three finalists for the Jim Thorpe Award, which is awarded annually to the nation's best defensive back. Now Joseph is using it all as motivation during spring ball. It's not like he didn't receive any accolades. In fact, the Texas native was named the Big Ten Freshman of the Year.
College football fanatics are expecting a sophomore campaign of big proportions from Joseph. Despite being in the spotlight and receiving all the hype, he continues to carry himself like a normal student-athlete. After all, the young defender paid his dues when he redshirted in 2019.
"One year ago today I was playing every practice like I wanted to start, and I just got my opportunity last year," Joseph said. "So I don't feel that pressure, but I do think Northwestern has a new standard."
Joseph isn't throwing shade at other teams that dub themselves 'Defensive Back U'. Instead the six-foot-one, 192-pounder is pushing the Wildcats' brand in the secondary. Quality play at the highest level breeds success. The entire unit lost studs like JR Pace and Greg Newsome, so Joseph feels a big load of responsibility falls on his shoulders.
He doesn't want to disappoint and is prepared for a bigger leadership role. The former three-star prospect believes Northwestern still has a bunch of ballhawks remaining in the secondary and they're having fun.
"The way we play and the swagger we have out there, it's all a confidence thing," he said. "Being a defensive back, you're out there on an island all the time, so you have to have that confidence in your head that you're the best on the field."
Although the Wildcats finished first in the Big Ten in pass defense last season, they'll have a new face orchestrating the unit. Jim O'Neil was hired less than 30 days ago as Northwestern's Defensive Coordinator, and quickly made a big impression on Joseph.
"He has been here a month and he already evolved my game into something I didn't even know I could do," Joseph said. "Having Coach O'Neil here, it's going to be exciting to see what we can do on defense."
That's saying a lot, considering Joseph had two interceptions apiece in victories over Iowa and Wisconsin last season. Not to mention he picked off a pass against Nebraska and Ohio State in the Big Ten Championship. He's his own worst critic and is never satisfied with his training.
The Texas native also soaked up everything he learned from former teammates and applied that on and off the field. Northwestern fans are expecting Superman in a purple No. 16 jersey, but Joseph remembers being that normal kid from College Station. Which is why he remains humble, regardless of what success comes his way.
As for the Thorpe Award, Joseph plans to leave no doubt as to who's the No. 1 defensive back in the game this fall. He wants the hardware in Evanston this December.
The Thorpe was something that was on my mind last year, but really we had bigger goals," he said. "Last year is the past now, so all I can do is try to go and win it next year, my goal is to get that thing next year."