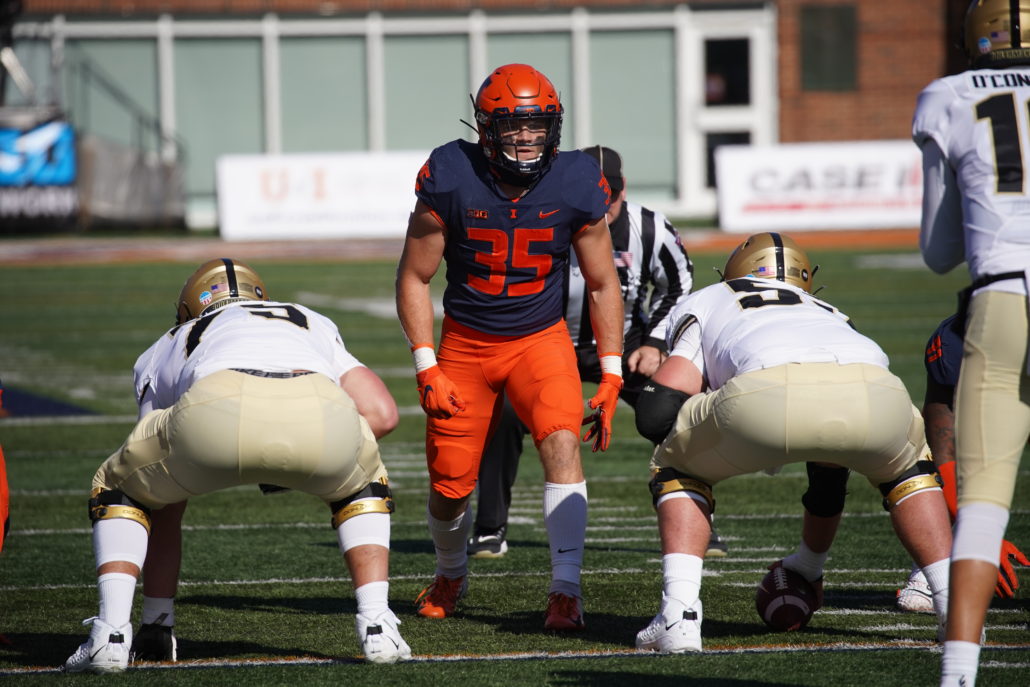 The star linebacker made headlines when he decided to return to Illinois for a sixth season.
After all, Jake Hansen had already hired an agent, received an invite to the NFL Combine and the Fighting Illini parted ways with Lovie Smith for Bret Bielema.
It wasn't an easy decision for the Florida native by any means. In fact, it was the most indecisive period of his life. Hansen had always dreamed of one day playing in the NFL and he was so close to accomplishing that goal. However, deep inside his heart Hansen knew he had unfinished business in Champaign.
"It was really hard for me to make the call to want to come back to school, because everything was so close and within my grasp," Hansen said. "Something I wanted to do for so long made it hard for me to pull the trigger."
He's a very accomplished defender, who led the Fighting Illini in tackles, tackles for loss and tied for first on the team in interceptions last season. Not to mention the six-foot-one, 230-pounder earned second-team All-Big Ten honors. So it's hard to imagine Hansen has anything left to prove at the collegiate level.
All of that changed when Bielema reached out to Hansen from late January through early February. The new Illinois coach talked a good game, but Hansen knew actions spoke louder than words. Then all of the current and former players backed up what Bielema said, which enticed Hansen.
Bielema didn't even have to charm him the way he did Russell Wilson when he coached at Wisconsin. It had already became a no-brainer to Hansen that he was going to join his brothers one last time. The lure of NFL money didn't even matter to him.
"A part of me doesn't care a whole lot about what people think," he said. "There is a small part of me that wants to leave a good legacy at the University of Illinois and know that I did everything I could."
Now he'll be the most experienced linebacker in the Big Ten this fall and hopes to take Illinois to new heights. Regardless, everything didn't happen overnight for Hansen's shocking return to the program. Hansen still had to get rid of his agent and jump through loopholes in order for the NCAA to grant him a waiver.
What's ironic is that throughout the grueling process he stayed enrolled in school. Now Hansen is excited about earning his Masters degree this fall, plus do what he loves best.
The former three-star prospect wants to continue the great legacy of Fighting Illini linebackers that Dick Butkus established. Hansen is also impressed with the staff Bielema has assembled since being hired. He's not even worried about the defense switching from a 4-3 base to a 3-4 scheme.
Hansen actually thinks it's a cool idea for a fresh start. He wants to accomplish what hasn't been done at Illinois during his previous five seasons.
"I think my hopes and goals don't really change, every year you want to win the Big Ten Championship," he said. "Beat rivals, beat Northwestern and have an All-American season personally."
Hansen still has hopes of playing in the Rose Bowl and Bielema led his team to three-straight the last time he coached in the Big Ten. There's no denying the touchy situation for Hansen coming back to Illinois because he had so much love for Smith. Still, he's going to embrace being the big man on campus and rocking No. 35 again.
Now it's just a matter of transportation of how Hansen will arrive back, considering he's several miles away.