Skylar Thompson embracing the road to recovery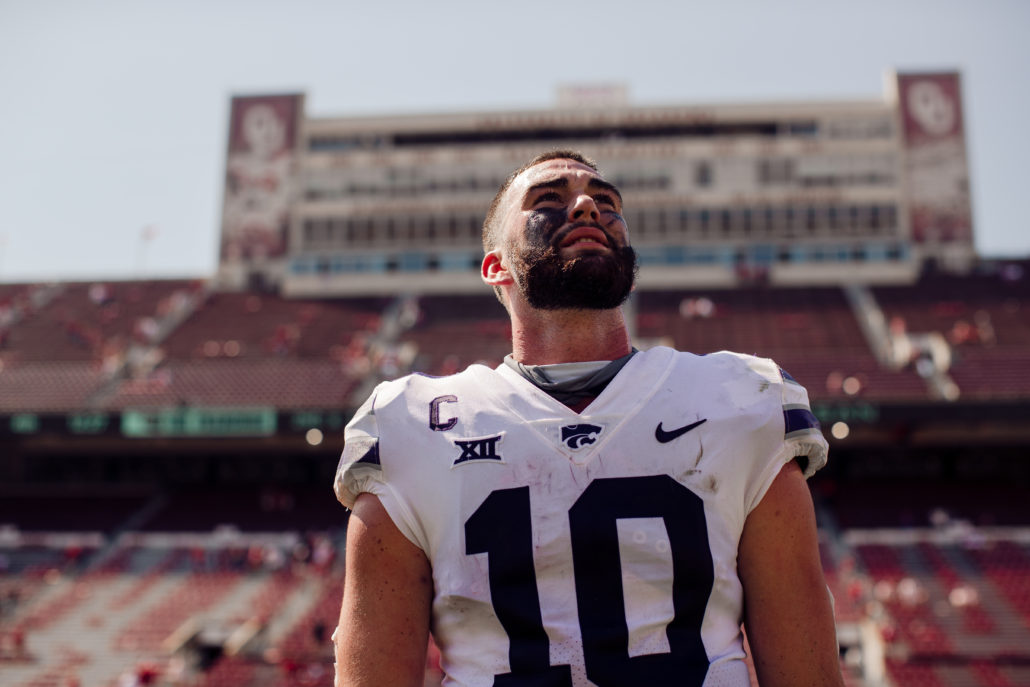 MANHATTAN, Kan. — When the quarterback decided to return to Kansas State for a sixth year, it was a blessing in disguise.
Normally that move would scare away potential recruits or make current players at the position enter the transfer portal, but not for the Wildcats. Instead his decision brought instant credibility to a team that limped towards the finish line last season.
After all, Skylar Thompson is the most experienced returning signal-caller in the Big 12. Not to mention he's the only quarterback in the league who has beat Oklahoma for two-straight years.
Still, there's no denying Thompson's journey has been challenging. From the initial hit that sidelined him for the remainder of 2020, to surgery and rehab, making it back onto the field has been a grueling process nonetheless. Kansas State was riding a high wave of momentum with Thompson at the helms before it all happened. He was also responsible for seven total touchdowns through the first three games and had no interceptions.
All of that changed in the first half against Texas Tech after he landed awkwardly on a play. Thompson didn't feel any pain initially, but little did he know his playing career was in jeopardy.
"I got up, tried to move my arm to look at my wristband and get the next play in, but my whole arm was just numb and stinging," Thompson said. "It felt like I was getting stabbed honestly and I've never been stabbed before, so I don't know what that feels like."
What frustrated Thompson the most was coping with having an early exit to his senior year. Kansas State ended the season on a five-game losing streak and the offense sputtered with backup Will Howard behind center. The true freshman led the Big 12 with 10 interceptions and the unit couldn't consistently score points.
"The hardest thing for me was just standing there, especially when we were struggling at times," he said. "Just standing up in the box, watching, not being able to do anything about it."
The six-foot-two, 223-pounder is a competitor at heart, which made it more humbling and painful when the losses kept piling up. He hated walking into the locker room after games and seeing the look of defeat in his teammates eyes. So when the opportunity came for Thompson to play alongside his brothers in 2021, it was a no-brainer he'd return.
The Missouri native bleeds royal purple and white, plus he couldn't end his collegiate career under those circumstances. However, life after the injury has been a bit different this time around. The recovery process has gone smoother than expected. He's the old head in the locker room and several players from his recruiting class aren't on the roster anymore.
Now Thompson is enjoying mentoring the younger players. His experience, leadership and knowledge of the game benefits the team and coaching staff on and off the field. He still has NFL aspirations and understands that will become more of a possibility with film study.
Thompson is excited about the 2021 version of the Wildcats, despite the team coming off a 4-6 campaign. The entire offensive line returns, there's weapons at the skill positions and special teams will be a strength. With spring training still a month away, Thompson is focusing on getting his range of motion back in his throwing arm.
When he first suffered the injury he couldn't grip a football. Coach Chris Klieman and his staff started Thompson's rehab process off with him tossing around a toy Nerf ball. He has gradually worked his way up to a normal-sized football and started throwing last week.
"Obviously it's a slow process getting back into it, but I just try to focus, make sure my mechanics are sound and I'm not compensating," he said. "I'm getting good weight transfer, doing all the things I've done in the past and not building any bad habits through this process."
Most of all he's relieved that Klieman and his staff welcomed him back with open arms. He's not looking forward to gaining any accolades or awards this upcoming season. Thompson is just grateful to be back on the gridiron playing the game he loves. Thompson will also wear No. 7 this fall instead of No. 10. Legendary Wildcat quarterback Michael Bishop rocked that same number and he took Kansas State to unbelievable heights.
Thompson hopes to leave a similar type of legacy with the program once his eligibility is up. Which is why the former four-star recruit was proud to see other six-year seniors like Bronson Massie, Cody Fletcher, Jahron McPherson and Noah Johnson return to the team. Thompson knows the Wildcats could potentially do something special this fall and feels there's a lot of good football left in his tank.
"I can still improve and get better, I don't feel like I've reached my full potential."