Dez Fitzpatrick astonishes on biggest day of career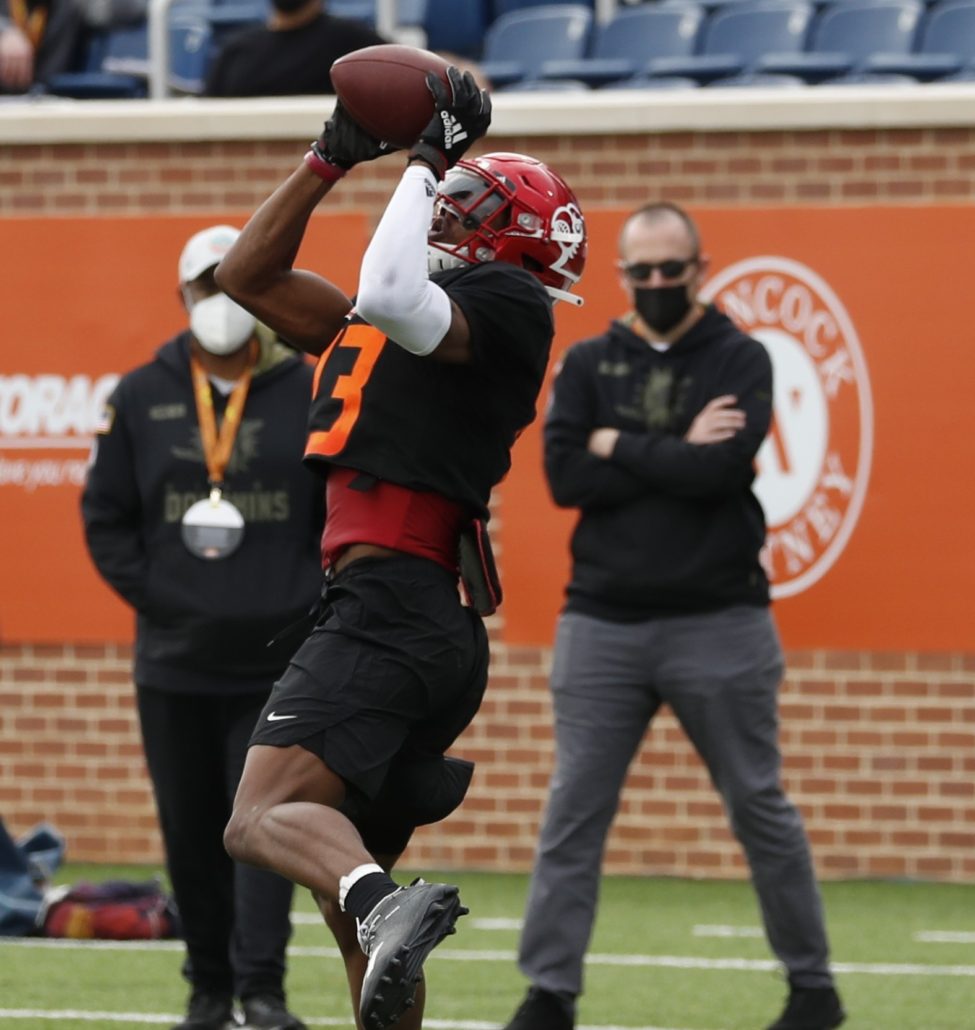 MOBILE, Ala. — The wide receiver group was like a needle in a haystack at the Senior Bowl Saturday, but one player made a name for himself.
Louisville's Dez Fitzpatrick put on a show for the victorious National team and finished with a game-high, six catches for 90 yards. His outstanding performance earned him Offensive Player of the Game honors. However, the success didn't come as a surprise to Fitzpatrick.
After all, the Michigan native sacrificed the most during his journey  to get to this point. Fitzpatrick caught COVID-19 while training for the post season and had to sit out a couple of days. It was a humbling experience for the wideout and a reason why he doesn't take anything for granted.
Still, he felt everything happened for a reason. Which is why Fitzpatrick knew he was going to leave it all on the field against the best of the best.
"I probably showed that a big guy my size can still move, I can get out of my breaks well and make catches in strides," Fitzpatrick said. "I had a couple of drops that I was down on myself about, but other than that, I think I had a good day."
The six-foot-two, 202-pounder made some catches look easy. He also showed great footwork when he hauled in a pass on the sidelines. Making catches with two feet in bounds is nothing new to Fitzpatrick. In fact he's been practicing that for the past couple of years and it's almost like second nature to him.
He also soaked up everything he learned in practice throughout the week from the pro coaches and applied that on the field.
"Definitely just competing hard all the time and going your hardest," he said. "One of the things I learned was staying friendly to the quarterback on different routes."
The 23-year old believes the biggest strength he displayed to the NFL scouts was his route-running. That's not a shocker, considering how much of a productive receiver he was for the Cardinals. Fitzpatrick finished his collegiate career with a jaw-dropping, 154 catches, 2,589 receiving yards and 21 touchdown receptions. There's no denying he was one of the best deep threats in College football during that span.
He enjoyed battling with the other defensive backs in practice and one-on-one drills, especially Oklahoma's Trey Brown. Fitzpatrick is confident he brings a high football IQ and preparation like no other to the table.
"A lot of guys don't go out there and make pre-snap reads like I do," he said. "The first thing I'm looking at is the safety near me and the corner on my side before hand."
Fitzpatrick played for two different coaches at Louisville, in Bobby Petrino and Scott Satterfield. So adjusting to different schemes at the next level should be a smooth transition. He's a loyal individual, who hopes to continue leading on and off the field.
Most importantly, Fitzpatrick wants to show out for the Louisville program in the pros like former players Lamar Jackson and Jaire Alexander. Especially since his fellow wide receiver teammate Tutu Atwell is a projected first-rounder in this year's draft class.
"I've been there for five years now and wasn't thinking about going anywhere else," Fitzpatrick said. "Didn't think about opting out or transferring when the coaching staff changed, so I'm representing the Louisville Cardinals pretty well."