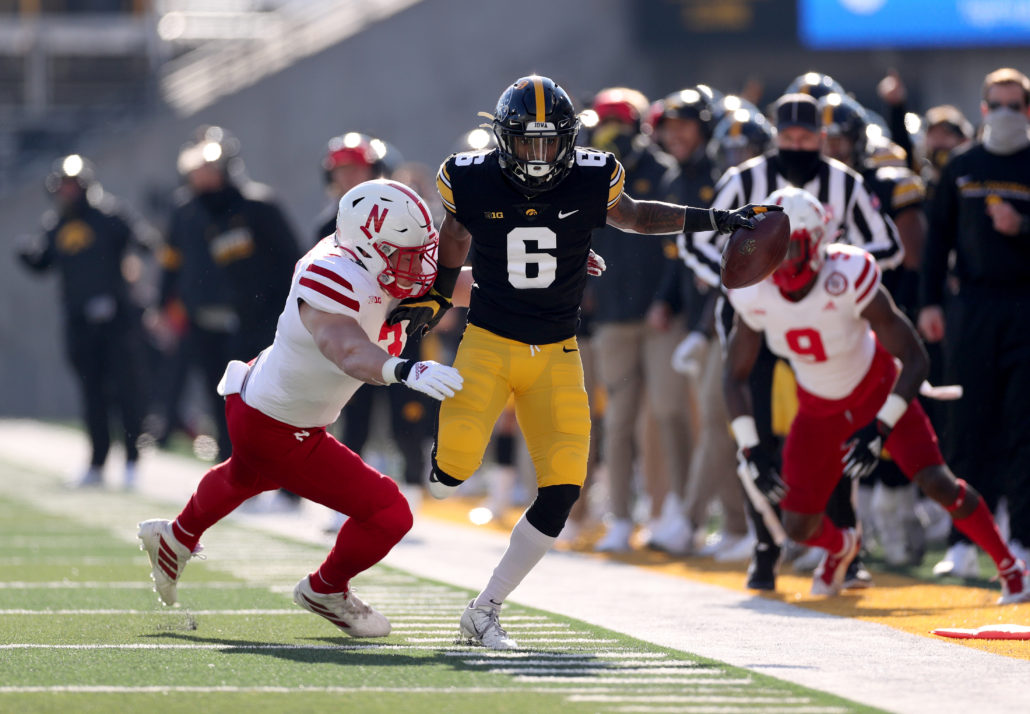 IOWA CITY, Ia. — Iowa's star receiver is trying to put a past mistake in the rearview mirror, while remaining focused in the classroom and on the field.
Ihmir Smith-Marsette immediately thought his football career was over after his OWI arrest a month ago. After all, it was humiliating for the senior wideout, who's perceived as one of the leaders on the team. He understood the magnitude of the ordeal and how it would have a negative impact on his life as a son, student-athlete and role model.
Smith-Marsette knew he had to face the music and lay all of his cards on the table. It's hard accepting accountability and not knowing who's going to be in your corner. However, instead of thinking everyone would turn their back on him, the New Jersey native found out how much support he had.
"I felt good talking to my family," Smith-Marsette said. "They was the first ones that let me know that it happens, you'll get past this."
He quickly realized that life is about choices. Which is why Smith-Marsette is trying to convince his teammates, coaches and Hawkeye Nation that it was an isolated situation. The six-foot-one, 178-pounder believes his best football is still ahead of him and he's trying to keep his head up. Despite receiving a one-game suspension for his actions, Smith-Marsette still has the backing of Coach Kirk Ferentz and son Brian.
"I talked to Coach Ferentz and he told me the consequences," Smith-Marsette said. "I handled it like a man, it's all on me and I got through it."
Former Oklahoma quarterback Baker Mayfield plead guilty to misdemeanor public intoxication and disorderly conduct in June of 2017, then went on to win the Heisman Trophy later that year. Rap legend Jay Z said it best 'First they love you, then they hate you, then they love you again'. When one door closes another opens and America loves a comeback story.
Since returning back to the starting lineup he hasn't been as productive. Smith-Marsette has struggled holding onto the pigskin, the Hawkeyes' offense hasn't been throwing the deep ball and punters keep kicking away from him. It all has been frustrating for the 21-year old and he has received criticism, but he understands it's all a process.
"I do have to personally fix my ball security, that wasn't acceptable on my part," he said. "But I feel as though I didn't turn the ball over, its' something I will get fixed."
Smith-Marsette is not concerned about the dip in his numbers this fall. He just wants to contribute in any way to help the team win. The Hawkeyes' rushing attack has been successful and a big reason why the team is ranked and won four-straight games.
"That's what we focus on is getting the ball out into the running back hands and we're going to let them showcase their talent," Smith-Marsette said. "Why turn away something that's working."
As for now he just wants to continue sharpening his image on and off the field. Gaining back the trust of his teammates has been a focal point and so far they've been rallying behind him. Everything happens for a reason and the last thing Smith-Marsette wants is for his shortcomings to go down in vain. He wants to be the perfect example of how an individual can turn something negative into positive.
"I'm here to play football and that's not going to be the end of my road after a mistake."