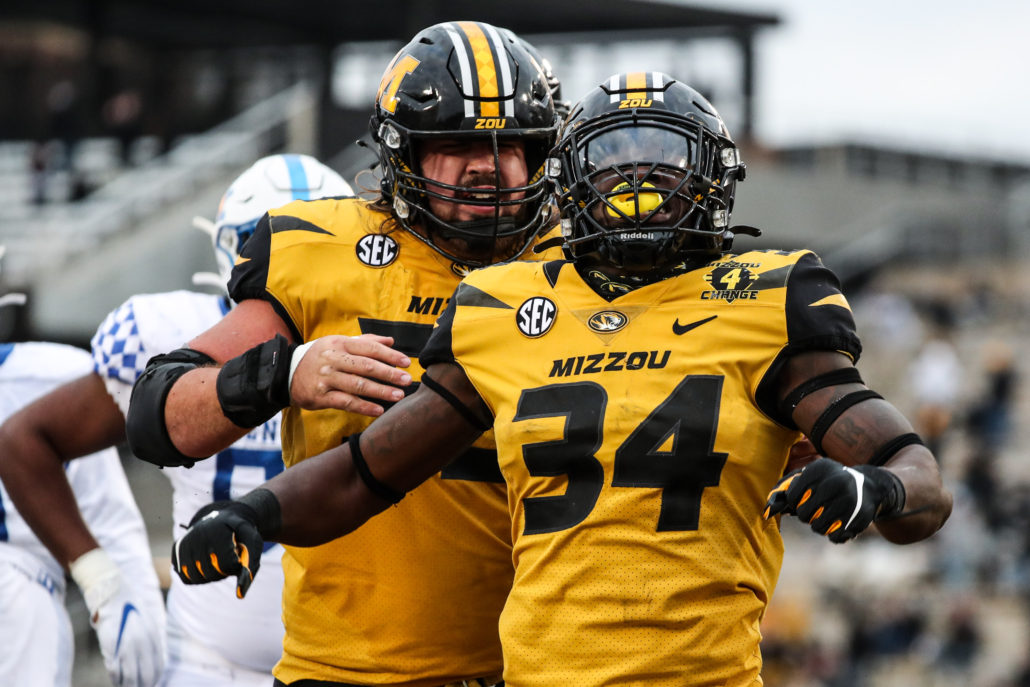 COLUMBIA, S.C. — The senior running back stampeded his way to the top of the program's rushing list Saturday night.
After Missouri's 17-10 win over South Carolina, Roundtree now has 3,238 career yards on the ground, making him the school's all-time leader among running backs. It's an amazing milestone, considering all of the great rushers that have come through the program over the years.
The Tigers also clinched their first road victory of the season and have won three of their last four games. Coach Eliah Drinkwitz is proud of his teams' perseverance. Particularly because he knew the Tigers were low on numbers from pandemic complications. However, Missouri still played like that wasn't an issue.
"I couldn't be more proud of our football team, the fight they displayed and the toughness they showed," Drinkwitz said. "To have 52 scholarship players available to play the game, I know we traveled with 56, but we knew certain people were going to be out."
Roundtree finished with 58 yards on the ground and a rushing score. It wasn't a workhorse performance, but his presence on the field was enough to keep the Gamecocks' defense honest. Although the North Carolina native isn't into individual accolades, he's still in awe of his accomplishment.
Afterwards the 5-foot-10, 210-pounder thought his milestone was unreal and weird. Regardless, Missouri shutout South Carolina in the first half, but was held scoreless over the last two quarters.
"It doesn't surprise me that it was a tight game, but this is our first win on the road, so it means a lot," Roundtree said. "We just got to do more so we don't end up in situations like that."
Roundtree was disappointed in the Tigers' execution on third downs, but was relieved the defense played with consistency throughout the game. He's thankful the team has a leader on that side of the ball in linebacker Nick Bolton. He always sets the tone and helps the unit compliment the offense.
"I would say in the first half we were making explosive plays, going down the field and scoring in the red zone," he said. "When we got to the second half it was different and we came out a little sluggish."
Luckily the Tigers' defense held up their end after sacking the Gamecocks' quarterbacks three times and picked them off once. Missouri (3-3) ran fewer plays but had more first downs. The Gamecocks were penalized 11 times and never stopped shooting themselves in the foot anytime they established momentum.
A win is a win, especially in the almighty SEC. The Tigers will use their latest victory as a testament that the team can get to finish line by any means necessary. Drinkwitz thought the win was an awesome performance all the way around by his team.
"Obviously we didn't do what we needed to do offensively in the second half to put the game away, but we found a way to win and that's what you have to do," Drinkwitz said. "Special teams did a great job flipping the field and we're going home 3-3, so I'm really proud right now."