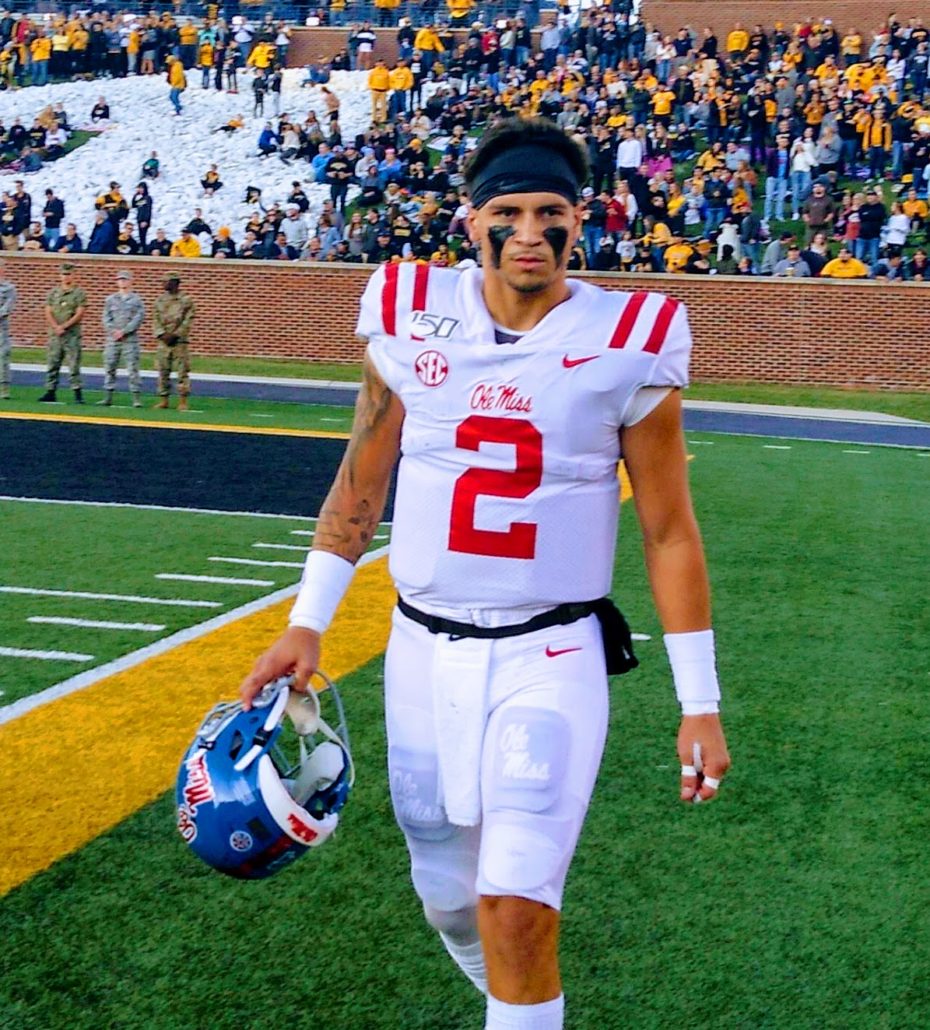 The sophomore quarterback is blossoming before everyone's eyes and he's coming off a career high in the win over Kentucky.
For a second-straight game Matt Corral had over 300 yards through the air and at least 50 on the ground. His performance was so impressive that he finished with the highest quarterback rating of any SEC signal caller after Saturday.
It's mind-boggling, considering Corral was in a deep competition with John Rhys Plumlee all of last year. Last season Ole Miss never utilized Corral enough and Matt Luke played musical chairs with his quarterbacks. The duo never got to play to their potential, which eventually led to a losing season and Luke's ousting.
Still, when one windows closes another one opens up. Lane Kiffin has a brilliant offensive mind and when he took the job, it had to be like a match made in heaven for Corral. Now it's beneficial that Ole Miss has two quarterbacks capable of getting it done. There's nothing like having quality depth, especially during the pandemic.
Plumlee has his own unique skill set in how he contributes to the Rebels' offense. However, there should be no quarterback controversy for Kiffin. Corral has took the reigns of the offense and hasn't looked back. He has that strong, accurate are that the NFL scouts crave and the mobility to move the chains when plays break down.
There's has been a significant change in Corral's leadership and presence in the pocket that wasn't there under the previous regime. The six-foot-one, 205-pounder is making a name for himself in the SEC and in two games this fall Corral has thrown for more touchdowns than he did all of last season.
The California native is a perfect example of how a great quarterback can make others around him better. Receivers Elijah Moore and Jonathan Mingo, plus tight end Kenny Yeboah all have thrived with Corral behind center. Ole Miss' finished with 613 total yards against Florida and 459 against Kentucky. Not to mention the Rebels have scored a touchdown in every quarter so far this season. That leaps and bounds from where the unit was a year ago.
Regardless, Alabama is a whole other animal. The Crimson Tide's defense is playing at a high level and will be the ultimate measuring stick for the Rebels' offense. Kiffin knows Saban's style of play, which should make for an interesting matchup. Now that Corral has surfaced as the big man on campus, he won't be sneaking up on anyone.
No doubt Kiffin has weapons in his arsenal. As of now nothing matters what Corral has recently accomplished because he will be judged solely on he performs against the No. 2 team in the nation.