Skylar Thompson looking Heisman worthy after win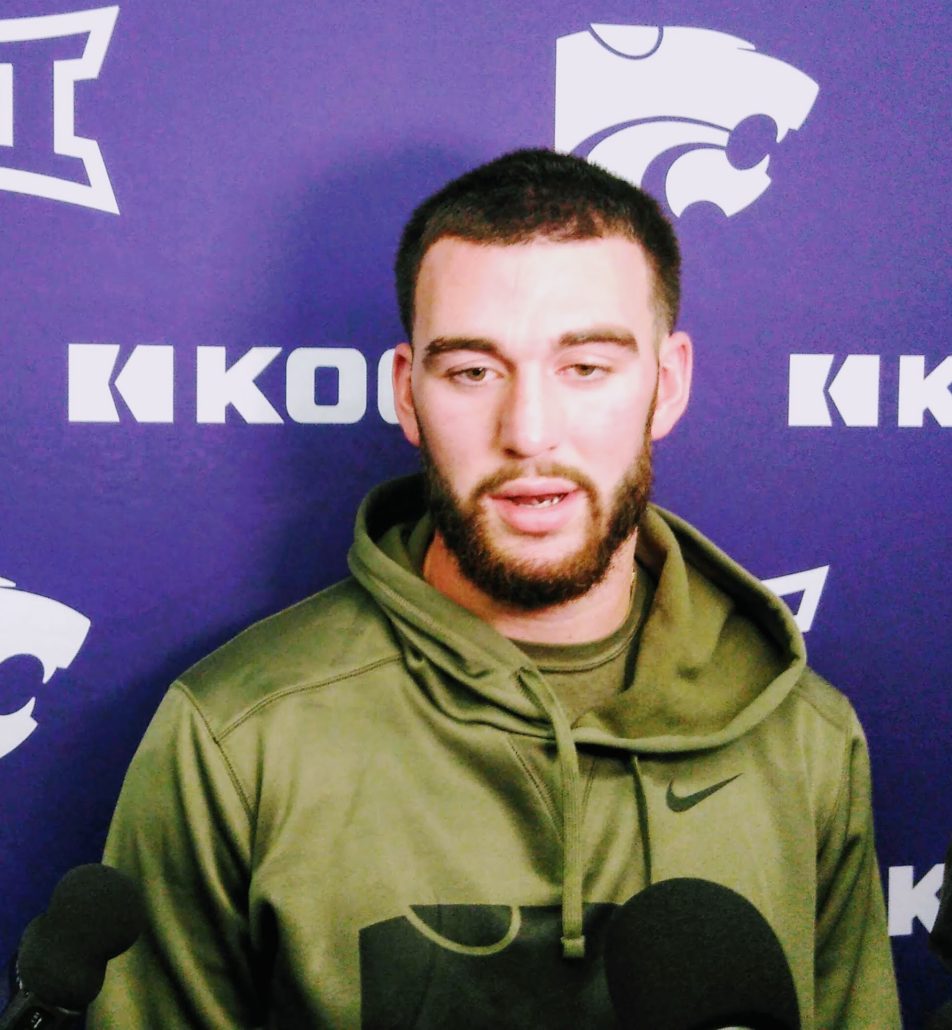 NORMAN, Okla. — After Kansas State's humbling season-opening loss two weeks ago, the senior quarterback had to overcome every emotion.
Thompson didn't want to sell himself or his team short, so he blocked out all the outside noise, put on his game face and delivered a performance of a lifetime, with a 38-35 win over Oklahoma Saturday. The monumental upset was Kansas State's first-ever road win against an AP top-three team.
Accomplishing that feat wasn't easy by any means. Throughout a grueling week of practice the Wildcats had to take a deep look at themselves in the mirror in order to get better. After all, the Wildcats were four-touchdown underdogs to the Sooners and the naysayers were ready to write their season off as a wash.
That was more than enough motivation for Thompson and his teammates. The signal-caller is a strong believer in an individual finding out a lot about himself through the challenges of adversity.
"This team responded and I had no doubt going into this game that we were going to have a chance to win," Thompson said. "Just by the way we handled the last two weeks through every practice and the way that we came together and corrected our mistakes, these people are so selfless man."
The six-foot-two, 223-pounder struggled somewhat in the first half against Oklahoma. Kansas State had zero first downs after the first quarter and a mere 98 total yards of total offense in the first half. However, after a motivational halftime speech by Coach Chris Klieman, the Wildcats came out a completely different team for the second half.
Klieman told his young squad to trust the process and to keep believing. Despite being down by 21 points in the third quarter, Kansas State never panicked.
"We kept pounding the stones, we kept believing," Thompson said. "We focused on one play at a time, we never got ahead of ourselves and we had a short-term memory when things didn't go right."
The Missouri native battled through injury and cramping, but wasn't going to let the pain keep him out of the game. Kansas State scored 17 unanswered points in the fourth quarter and held Oklahoma scoreless. Thompson finished with 334 yards through the air and scored a jaw-dropping, four total touchdowns.
Kansas State running back Deuce Vaughn was able to step up to the plate and kept Oklahoma's defense from keying in on Thompson. The true freshman tallied for a career-high, 174 total yards and scored a touchdown. Vaughn took a ton of pressure off the quarterback. Thompson believes in the rusher, knows he has worked hard since arriving on campus and that Vaugh's very detailed-oriented.
Thompson appreciates this year's victory over the Sooners than 2019's because the Wildcats were coming off a loss to a Sun Belt team and no one outside of the team's locker room gave them a chance. Motivation, perseverance and pride was on full display for Klieman's team Saturday and the College football world couldn't help but notice.
"I'm going to remember this memory for the rest of my life," Thompson said. "You can't simulate it, you can't describe it, the best word for it is pure joy in our hearts as far as seeing our hard work and sacrifice pay off."
The Wildcats' gutsy performance didn't come as a surprise to Klieman because he challenged his team all week. He knew Kansas State could play better in all phases of the game, including offense, defense and special teams. Still, the 53-year old coach isn't going to let his team get ahead of themselves because they are only two games into the season and the uncertainty with the pandemic complications.
"Knock on wood, because you don't know who's going to be available next week and that's kind of what everybody has to realize on our team and across College football," Klieman said. "This is a great win and stuff, but we have to go back on Monday, see who's available and get those guys ready to play."