Skylar Thompson vows team will rebound after loss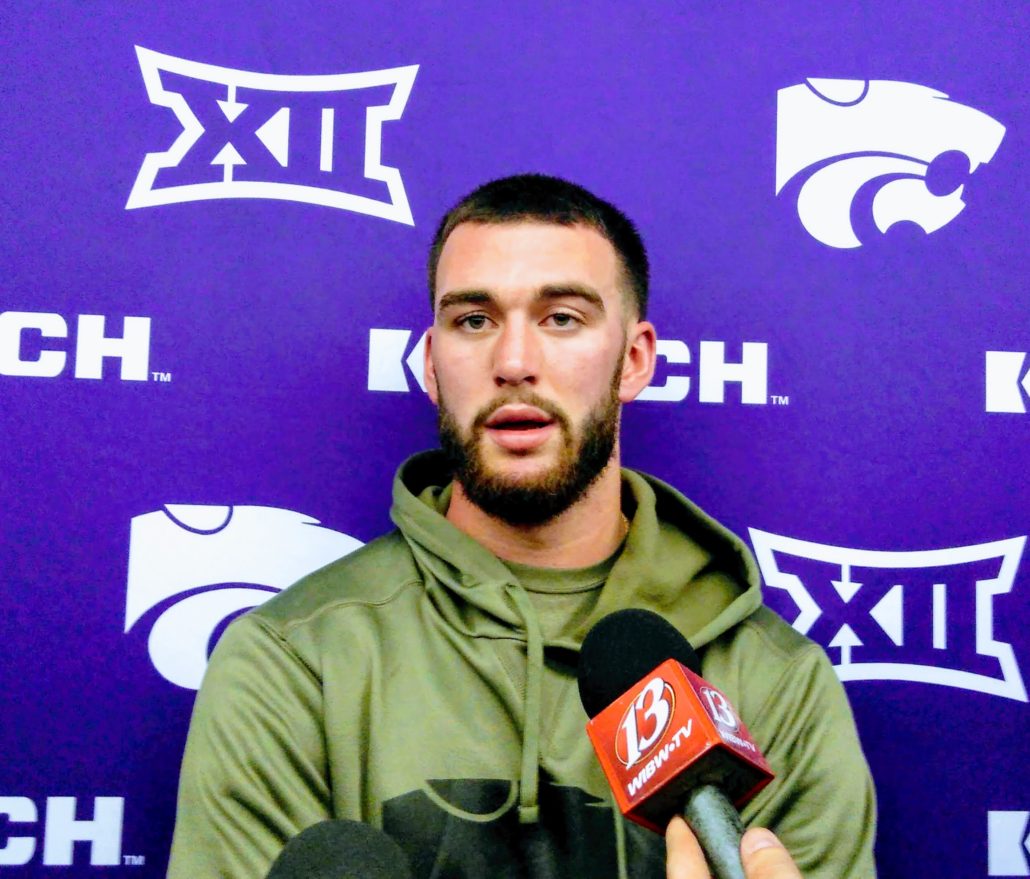 MANHATTAN, Kan. — Kansas State was one of three Big 12 teams that lost to a Sun Belt opponent Saturday.
The 35-31 upset by the hands of Arkansas State was an embarrassment to the program, conference and Thompson is shouldering his team's shortcomings. It wasn't the ideal start the quarterback had planned for his senior season.
After all, he hates losing because it makes him all fired up, but proud his teammates kept fighting. Thompson accepts the roses with the thorns. His roses were passing for 259 yards and two touchdowns. The 23-year old's thorns were the devastating hits he took, including one that required him to leave the game for a couple of plays.
Still, Thompson showed he was tough as nails and kept battling. That's what he believes a true leader is all about, but sometimes it's hard to lead by example. Thompson knows life is easy when things go fine, but understands it's hard to fake it when all goes bad.
"A true man gets revealed when things get rocky, that's when your character shows," Thompson said. "You better believe I'm going to buckle down and I'm going to bring it harder than ever through this."
It was a devastating blow when Thompson lost starting senior center Noah Johnson on the third play of the game. The Wildcats wound up playing with three different centers. That paved the way for Arkansas State's defense to get after the quarterback. Coach Chris Klieman knows Thompson has gained notoriety for being a true dual-threat signal-caller. However, there was something obviously wrong after he took a blow down in the trenches.
"After the play at the two-yard line when Skylar got hit, he struggled to move around after that," Klieman said. "It wasn't a severe injury, obviously he was able to play, but he didn't have the same mobility as he typically does."
Will Howard came into the game to relieve Thompson for two plays, but Klieman wanted to give his backup quarterback some snaps anyway. Thompson didn't stay on the sidelines long, came back in and played with that never say die mentality. Unfortunately Kansas State's rushing attack wasn't enough to keep the pressure off of Thompson. The Red Wolves forced the Wildcats out of their game plan and made them throw the deep ball more often.
Still, Thompson is at peace with his performance against Arkansas State and he's looking forward to watching film during Kansas State's off week. Thompson is a veteran player, but understands there's always room for more learning. He's a competitor who loves the game, so he's not going to hit the panic button.
"When I walked off that field today, I gave it all I got," he said. "I missed some throws, missed some reads and made mistakes, but man I'm walking off that field with my head high."
The Red Wolves exposed the Wildcats' intermediate passing game and Thompson believes the offense left some plays on the field. The six-foot-two, 212-pounder remains confident that the captains will step up. Kansas State has two weeks before opening Big 12 play on the road against an Oklahoma team out for revenge.
Consistency on offense will be key for Klieman's team when they iron out all the wrinkles. The Wildcats will need to be ready and Thompson is prepared to push his teammates through the gauntlet that looms on the schedule.
"My approach is we're not giving up and I'm not going to let this game define us and how this season is going to go."