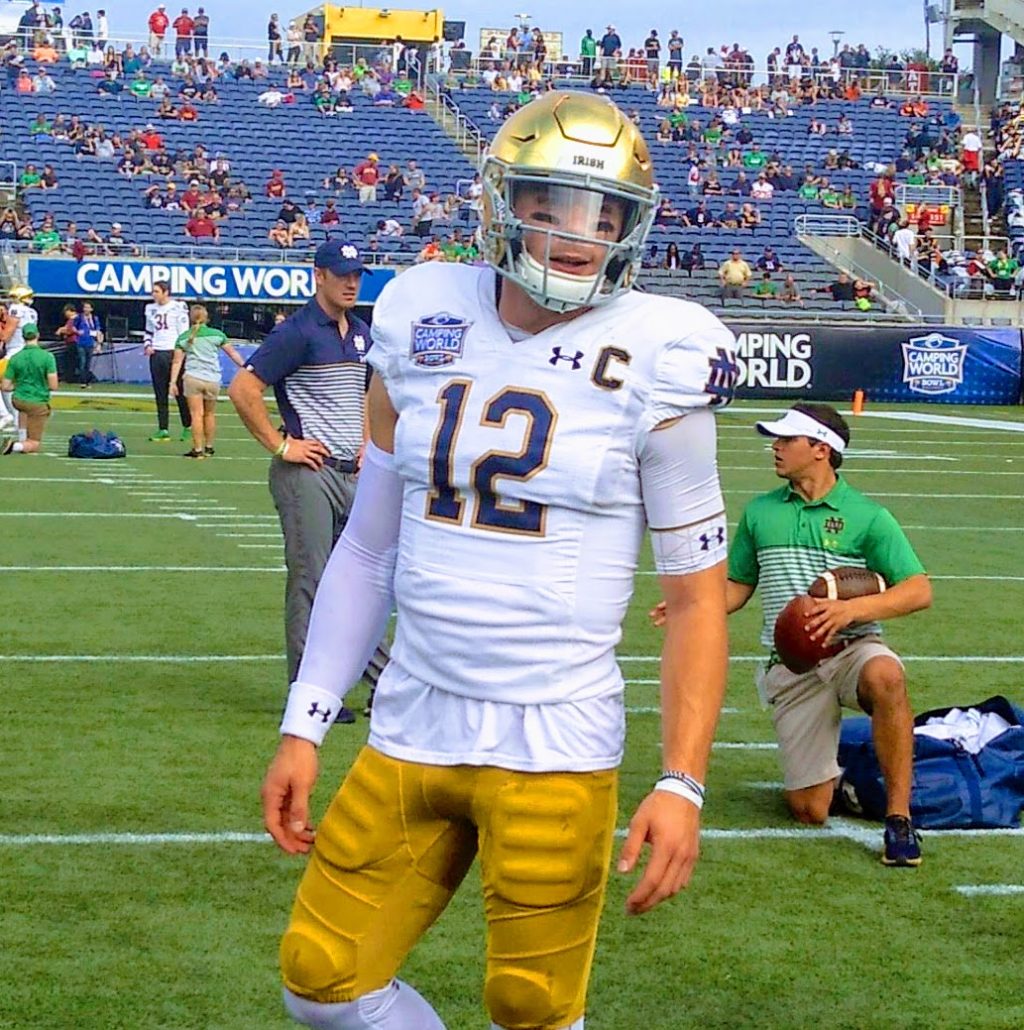 It's the race for the most prestigious award in sports and legends are born every season.
People complain that it has become a quarterback beauty contest, considering only one running back has won the hardware in the last decade.
However, it's all about remaining consistent and taking advantage of the moment when everyone is watching. All of these individuals will get that opportunity this fall, with hopes of establishing their own legacy.
20. Brady Breeze, S, Oregon: The ball hawk is the only defender on this list, but knows how to execute the big plays that'll make people take notice. Breeze scored three defensive touchdowns last season, which tied for first in the nation. He also earned All-Pac-12 honors on special teams. Over the Ducks' last two games in the Pac-12 Championship and Rose Bowl, Breeze tallied 20 total tackles, including 15 solo. He even blocked a punt and returned it 31 yards to the house against the Badgers. Breeze will be the field general of Oregon's secondary, which should again be one of the best defenses in the Power Five.
19. Charlie Brewer, QB, Baylor: He's the key to making sure the transition with the new coaching staff goes smoothly. Brewer is one of the most experienced quarterbacks in the Big 12. He needs 2,594 passing yards and 28 touchdown tosses to break Robin Griffin III's career record. Unfortunately Brewer won't have Denzel Mims to throw the ball to this fall. Not to mention the Bears had three defenders selected in this year's Draft from an 11-3 team. The pressure will be on Brewer's shoulders to continue the success. If Brewer can duplicate last season's performance, despite the coaching overhaul and break those records, he'll get some attention.
18. Journey Brown, RB, Penn State: He has the potential to be the Nittany Lions' best running back since Saquon Barkley. Brown grew up before everyone's eyes late last season as he emerged out of a crowded backfield. He went on a tear over Penn State's last five games. The 5-foot-11, 215-pounder surpassed the century mark in rushing against Minnesota, Indiana and Rutgers. Brown's coming out party was a 202-yard performance in the New Year's Six Bowl win over Memphis. The Pennsylvania native also averaged nearly seven yards per carry. He should be the Nittany Lions' primary rusher this fall and if Penn State can win the East all eyes will be on Brown.
17. Bo Nix, QB, Auburn: Anytime you become the first true freshman in school history to beat Alabama, you're going to be in the spotlight. Nix started every game last season, led the Tigers to nine wins and earned Freshman All-SEC. Auburn plays Texas A&M and LSU at home, which are both games that'll move the national needle. It's all about making a statement on the biggest stage. There's no Joe Burrow or Tua Tagovailoa this time around. Nix could potentially be the best quarterback in the toughest division in all of College Football. The challenge will be the fact that no SEC quarterback has won the Heisman since Auburn's very own Cam Newton took home the hardware in 2010.
16. Javian Hawkins, RB, Louisville: The former three-star prospect came out of nowhere last season and finished second in the ACC in rushing behind A.J. Dillon, with 1,525 yards on the ground. Hawkins only appeared in three games during the 2018 season under Bobby Petrino's regime before redshirting. However, he thrived under new Cardinal Coach Scott Satterfield's system. Standing at five-foot-nine and weighing 182 pounds, Hawkins doesn't have the bulk to be a true workhorse-type of back. Still, if he can become more involved in the passing game the sky will be the limit for Hawkins. The Florida native went over the century mark in rushing in seven different games. Hawkins steamrolled for a career-high, 233 yards in the home finale win over Syracuse.
15. Sam Howell, QB, North Carolina: He was the Tar Heels' No. 1 recruit and had arguably the best true freshman campaign of any quarterback in the FBS last season. After leading the ACC with 38 touchdown passes and 3,641 yards through the air, it's safe to say Howell is a household name in the league. The North Carolina native threw for at least two touchdowns in every game and earned Freshman All-America honors. Howell also was tabbed for third-team All-ACC. Mack Brown and North Carolina surprised many last season and will be a much improved team in 2020. Which means expectations will be high for the program for the first time since Brown was back on the sidelines in 1997. If Howell can lead the Tar Heels to their first Coastal Division Title since 2015, he will gain notoriety.
14. CJ Verdell, RB, Oregon: He's one of seven returning players in the FBS coming off back-to-back 1,000-yard rushing seasons. Verdell is no stranger to production, with 399 carries, 18 rushing touchdowns and 41 catches out the backfield during that span. With Justin Herbert's eligibility used up and a new face at quarterback, Verdell may be asked to carry the offense early on while everyone gets adjusted. Which means his numbers should improve. As longs as the Ducks continue to win Verdell will be in the discussion. Mario Cristobal is just getting started and Oregon looks to continue ruling the Pac-12 with an iron fist. Verdell will get a head start over all the other contenders with a win at home over Ohio State in game two. USC, Washington and Arizona State also have to come to Eugene.
13. DeVonta Smith, WR, Alabama: This dude is a threat to take it to the house anytime he touches the ball, making him one of the most explosive players in College Football. Although Jerry Jeudy and Henry Ruggs III are gone, Smith will keep Alabama's great wide receiver legacy alive. He has the speed to stretch the field and will make life easier for Mac Jones in the pocket. Smith finished third in the SEC with 14 touchdown catches last season and earned second-team All-America honors. He'll be complimented by Jaylen Waddle, who's a terror out of the slot. The Crimson Tide will arguably have the league's best receiving corp for 2020. Being Alabama's top receiver means Smith will put up video game numbers, which in return will get him consideration.
12. Brock Purdy, QB, Iowa State: He went from leading the Cyclones to eight wins as a true freshman, to finishing No. 1 in the Big 12 in passing yards as a true sophomore. Purdy is one of the most competitive quarterbacks in the Power Five and gained notoriety for his numerous fourth quarter comeback victories. This fall could potentially be Purdy's best season yet. He'll be throwing the ball to Charlie Kolar, who's arguably the best tight end in the FBS. Chase Allen is another great tight end, who's also an elite blocker, plus he's an All-Big 12 performer. Purdy has a deep threat in his arsenal with wide receiver Tarique Milton, who averaged 21 yards per catch on 35 receptions. Besides breaking the school record books with his arm, the Arizona native has the mobility to frustrate opposing defenses.
11. Tanner Morgan, QB, Minnesota: He's the main reason why the Golden Gophers won 11 games, which was their most since 1904. Morgan led the league in passing yards per game and earned second-team All-Big Ten last season. His 30 touchdown passes were the most ever by a Minnesota quarterback. Morgan also has 1,000-yard receiver Rashon Bateman in his arsenal again. The schedule sets up nice for Morgan to make some noise with home games against Iowa and Michigan. The Golden Gophers will be operating under a new Offensive Coordinator, but Morgan should still be able to duplicate his production. If he can get Minnesota to the Big Ten Championship Game for the first time ever, it'll speak volumes.
10. Kyle Trask, QB, Florida: Last year the former walk-on emerged out of nowhere when Feleipe Franks suffered a season-ending injury and made everyone take notice in the SEC. Trask went 8-2 as the Gators' starter and threw 24 touchdown passes during that span. Now the buzz is back in Gainesville about a Florida quarterback for the first time since Tim Tebow was under center. The schedule is quite manageable and LSU comes to the Swamp. If Florida can get over the hump against Georgia everyone will be hopping on Trask's bandwagon. Dan Mullen is a quarterback guru and has a great track history with his signal callers. Trask could potentially be in for a monster season and he'll be in the spotlight every navigating through the SEC meat grinder.
9. Chuba Hubbard, RB, Oklahoma State: If he surpasses the 2,000-yard mark for a second-straight year, he'll have to get an invite to New York. When you lead the entire FBS in carries, rushing yards and earn first-team All-America honors, you're bound to make some noise on a national level. Hubbard is true workhorse and was named the Big 12's Offensive Player of the Year last season. The question remains if Oklahoma State can win enough games in order for Hubbard to get serious consideration. Snapping a five-game losing streak to the Sooners and clinching the program's first-ever berth in the Big 12 Championship Game will be a nice start. Getting Texas at home should help Hubbard's cause also. The Canadian has a chance to be the school's first-ever back-to-back 2,000-yard rusher.
8. Kedon Slovis, QB, USC: He showed promise as a true freshman last season and building buzz back at Quarterback U. Slovis was named the Pac-12's Freshman Offensive Player of the Year after tossing 30 touchdowns and finishing second in the league in passing yards. Slovis thrived under Graham Harrell's system and should be more comfortable in year two. Not to mention he'll be protected by one of the best offensive linemen in the country in Alijah Vera-Tucker. The cherry on top for Slovis is having Amon-Ra St-Brown and Tyler Vaughn for targets again. The duo combined for a jaw-dropping, 151 receptions, 1,954 receiving yards and 12 touchdown catches last season. If Slovis can lead the Trojans back to the top of the Pac-12 and give the conference some national credibility again, he'll be in the conversation.
7. JaMarr Chase, WR, LSU: Last season's Biletnikoff Award winner probably would've been the first receiver selected in this year's NFL Draft if he was eligible. Still, Chase led the entire FBS with 20 receiving touchdowns and earned first-team All-America honors as a true sophomore. His 20 touchdown catches were the most in school history for a single-season and more than eight other SEC teams. Unfortunately Chase won't have Joe Burrow throwing to him again, but with Justin Jefferson also gone, he can be the Bayou Bengal's true go-to receiver. Not having Joe Brady orchestrating that lethal passing attack will be huge. However, LSU will play in some blockbuster games this fall, including Texas and Alabama in Death Valley for Chase to prove last season's success was no fluke..
6. Travis Etienne, RB, Clemson: The Georgia native is the most electrifying player in the game. Etienne flirted with going into the NFL Draft, but decided to stay in school for his senior season. He already sits atop Clemson's all-time list in career rushing yards and touchdowns on the ground. Etienne's explosiveness allows him to score from anywhere on the field. He also can catch the ball out of the backfield and deadly for opposing defenses out in space. Etienne earned second-team All-America honors and led the ACC with 19 rushing touchdowns. He'll likely steal votes from his quarterback, but what helps Etienne is his consistency. The conference schedule is very favorable again and the hardest game during the regular season will be at Notre Dame in November, the perfect time for Etienne to make a statement.
5. Ian Book, QB, Notre Dame: Being the starting quarterback for the Fighting Irish will automatically get you on the national radar. Book has been the starter for Notre Dame the past two seasons, threw for 53 touchdowns and won 23 games during that span. Not to mention he led the Fighting Irish to a Playoff berth in 2018. Notre Dame is still looking for that breakthrough with Brian Kelly, which is the program's first National Championship since 1988. Book will have to remain consistent to be deeply considered. However, if Notre Dame can get past Wisconsin at Lambeau Field and be 8-0 heading into that clash with Clemson in South Bend, all eyes will be on him. A win over the Tigers and the Fighting Irish might emerge as the No. 1 team in the country and Book at that point would be the Heisman front-runner.
4. Najee Harris, RB, Alabama: He's the complete back who can do it all. Run through the holes, catch the ball out of the backfield, block and can hit the burners on the sideline. Harris is a physical runner and could've left for the NFL also, but is back for a highly-anticipated senior year. Alabama has officially become Running Back U under Saban and now it's Harris' turn. The six-foot, 230-pound bruiser tied for first in the SEC in total touchdowns. Harris will take a ton of pressure off Mac Jones by taking handoffs, catching screens and being that checkdown safety net. As long as Harris produces highlights like he did against South Carolina he'll stay in the conversation. Georgia, Texas A&M and Auburn come to Bryant-Denny so the stage will be set. The last running back to win the Heisman was Alabama's Derrick Henry.
3. Sam Ehlinger, QB, Texas: The hometown kid has put the Longhorns on his back the past three seasons and could potentially break several of Colt McCoy's career records this fall. The only missing piece from Ehlinger's resume is a Big 12 Title, which Texas hasn't won since 2009. He'll likely have to beat Oklahoma twice this season to accomplish that feat. The six-foot-three, 230-pounder's style of play is similar to Tim Tebow's and he's responsible for most of the Longhorns' touchdowns. Ehlinger will have a new Offensive Coordinator this fall and that's the intriguing part. Still, he needs 45 touchdown passes, 40 total scores and 4,384 passing yards this season to sit atop the Longhorns' all-time list in each category. A win in game two over LSU in Death Valley will give Texas a clear cut path to the Playoffs.
2. Trevor Lawrence, QB, Clemson: He has been the most successful quarterback in College Football the past two years. Lawrence has a great chance to lead the Tigers to three-straight undefeated regular seasons. People argue that Clemson's conference schedule hasn't been strong enough. Yet and still Lawrence leads his team to victory, week in and week out, knowing they have a big target on their jerseys. That's what makes the signal-caller so special. Lawrence is probably disgusted with his accuracy against LSU and approaching this season with a chip on his shoulder. He still led the league in passing yards and has back-to-back ACC Titles under his belt. Traveling to the Doak and Notre Dame Stadium will be Clemson's spotlight games and a great time for Lawrence to showcase he's still the man.
1. Justin Fields, QB, Ohio State: He made the right move when he transferred from Georgia and exceeded the lofty expectations. Fields led the conference in passing yards and passing touchdowns. The Georgia native was named both the Big Ten's Quarterback and Offensive Player of the Year.  Fields also had a 41-3 touchdown-to-interception ratio, which was the best in the FBS. The six-foot-three, 228-pounder earned second-team All-America honors. Fields was one bad throw away from the Buckeyes clinching a berth in the National Championship Game. His knee should be healed and he'll be operating behind the best offensive line in the country. Coach Ryan Day has a system designed that's quarterback-friendly and Fields should put up video game numbers again. It has become National Title or bust with Ohio State.