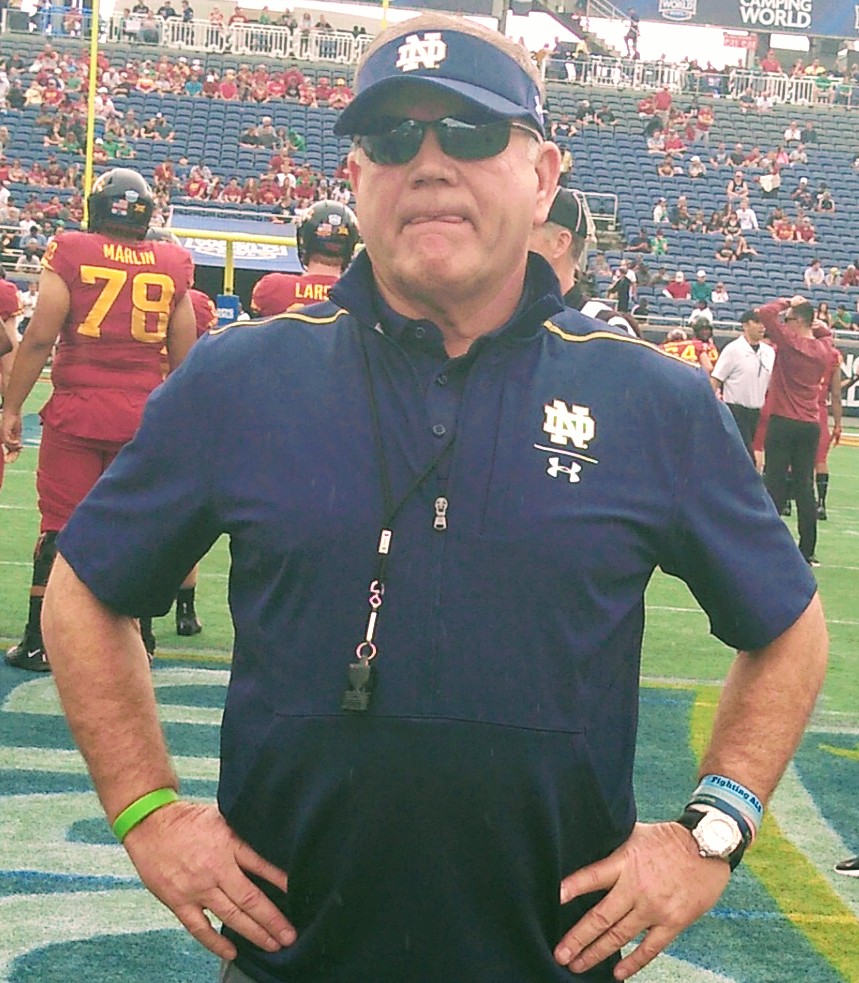 It takes patience, direction and wisdom to mold young boys into responsible men.
Not only do you have to be an effective recruiter, but you also have to win on the field and have support from the fans to maintain longevity. These coaches have paid the cost to be the boss and continue to build on the success of their great legacies.
25. Gary Patterson, TCU: He has been holding his position since 2001, making him the second-longest tenured coach in the entire FBS. Patterson watched the program transition from the WAC, to the Conference-USA, to the Mountain West and finally to the Big 12. The Horned Frogs won four Mountain West Titles, made two BCS Bowl appearances, an undefeated season that included a Rose Bowl victory and played in the Big 12 Championship during that span. Patterson is also the program's all-time winningest coach and he continues to put his players into the NFL.
24. Matt Campbell, Iowa State: The Cyclones were the laughing stock of the Big 12 for decades before he arrived in Ames. Campbell took over a program coming off of six-straight losing seasons. There were growing pains in Campbell's first year on the job, but after that he has led Iowa State to three-straight winning seasons. The Cyclones have an identity on defense and can hang with the best of them in conference play. That was unheard of during the Dan McCarney, Gene Chizik and Paul Rhoads era. Campbell could possibly be returning his most talented team yet for the 2020 season.
23. Herm Edwards, Arizona State: Since it had been so long since Edwards coached at the Collegiate level, Athletic Director Ray Anderson received a lot of criticism when he pulled the gutsy hire two years ago. In hindsight it was a brilliant move, considering Edwards has led the Sun Devils to two-straight winning seasons, including an eight-win campaign and a bowl victory. It's something that hasn't been accomplished at the program since 2014. Edwards is one of the most respected coaches around, who's also beloved by his players and everyone has brought into his foundation.
22. Bronco Mendenhall, Virginia: When he coached at BYU Mendenhall beat Oklahoma, Washington, Texas, Nebraska, Ole Miss, Virginia and Washington State. He was No. 2 on the Cougars' list in all-time wins when he took on a new challenge with Virginia. After all, the program was coming off four-straight losing seasons and Mendenhall started off with a 2-10 campaign. However, he eventually turned the program around, led the Cavaliers to three-straight bowl games and 23 wins the past three seasons. Virginia finally snapped a 15-game losing streak to Virginia Tech and made its' first-ever ACC Championship Game appearance last year.
21. Paul Chryst, Wisconsin: Athletic Director Barry Alvarez has had success with multiple different coaches, but obviously Chryst is around for the long haul. After all, he's a former Badger quarterback and has won 52 games over the past five seasons. Wisconsin continues to be the program that wins the most with less and rules the Big Ten West with an iron fist. Year after year Chryst fields some of the best defenses in the league and always have a bruiser at running back. The only thing missing from Chryst's resume is a game-changing quarterback, which Wisconsin hasn't had since Russell Wilson's one-year wonder.
20. Dave Clawson, Wake Forest: He's running a program that's smack in the middle of College Basketball country and known for academics. However, Clawson's success has gone under the radar, but his work speaks volumes. It didn't start off pretty for Clawson and the Demon Deacons suffered back-to-back 3-9 campaigns before bigger and better things started in year three. Wake Forest is coming off three-straight winning seasons that include three consecutive bowl wins. The impressive part about it is that Clawson is accomplishing all of this in a division that contains Clemson and Florida State. It's a shocker that big time programs haven't tried to lure Clawson away from Wake Forest.
19. David Shaw, Stanford: He's one of the most winningest coaches of the past decade, with a 92-34 record over a nine-year span. Stanford is a school known for having high academic standards. Yet and still Shaw lures in the smart athletes who are also highly-touted prospects. The Cardinal has been one of the best recruiting programs in the Pac-12 under Shaw's watch. He's coming off the first losing season of his career as coach and Stanford's regression hasn't helped the Pac-12's credibility. Still, he's one of the highest paid coaches in the league and continues to churn his players to the NFL. Stanford is out to prove last season was a fluke and will try to resume its' winning ways this fall.
18. Mike Leach, Mississippi State: The Air Raid wizard has had tremendous success everywhere he has coached. Leach sits atop Texas Tech's all-time win list and led Washington State to a school-record, 11 victories in 2018. His quarterbacks usually throw for nearly 5,000 yards a season and his offense puts up video game numbers. Leach is a true innovator. Now he has a new challenge ahead of him, which is bringing his Air Raid to the almighty SEC. Mississippi State is in the toughest division in all of College Football and Leach will be squaring off with the likes of Nick Saban, Ed Orgeron and Jimbo Fisher. With time though, he'll have the Bulldogs contending in the SEC West for years to come.
17. Kirk Ferentz, Iowa: He's the longest-tenured head coach in the entire FBS and been holding his position since 1999. Ferentz is the Hawkeyes' all-time winningest coach and runs one of the cleanest programs in the country. Ferentz gained notoriety for turning two and three-star prospects into NFL Draft picks. As a matter of fact Ferentz has had a player drafted every year of his tenure, with a total of 74 Hawkeyes to date. He's also the reason why the program is now dubbed Tight End U. His system works and now recruits are starting to recognize playing in it will get them to the NFL. Not to mention Ferentz is undefeated against rivals Iowa State, Minnesota and Nebraska for the past five seasons.
16. Tom Herman, Texas: He did wonders at Houston, which made him the hottest commodity in College Football and the Longhorns came calling. It only took Herman two seasons to pass his predecessor Charlie Strong's three years worth of wins. Recruiting has picked up again for the program and Herman led Texas to a Big 12 Championship Game appearance in 2018. Despite the Longhorns underachieving big time last year, they still finished the season as a ranked team. Herman has a Heisman contender at quarterback in Sam Ehlinger and if Texas can get past LSU and Oklahoma this fall, the sky's the limit for Texas.
15. Gus Malzahn, Auburn: Year after year he always seem to be on the hot seat, but then he beats Alabama and everything cools down. Malzahn has been very successful with Auburn, with an SEC Title and National Championship Game appearance. The Tigers have also lured in multiple quality recruiting classes under his watch. Auburn has never finished with a losing record in SEC play under Malzahn and won 62 games over the last seven seasons. In hindsight it looks like he has a signal-caller in place to take the program to new heights, with Bo Nix. The Tigers are always a threat to make a run at the conference title and that'll be no different this upcoming season.
14. Kyle Whittingham, Utah: He's the third-longest tenured coach in the Power Five and continues to lead the Utes to new heights. Utah was one win away from possibly clinching a berth in the Playoffs last season. Whittingham only needs 14 more wins to become No. 1 with the Utes in that category. Not to mention Whittingham turns his players into NFL Draft picks, with 47 Utes drafted under his watch. The old Mountain West program finally adjusted to the Pac-12 and has remained a force in the South Division. With an overhaul on both sides of the ball due to the NFL, this fall Whittingham will have the opportunity to show how great he is at rebuilding.
13. James Franklin, Penn State: He has been so successful with the Nittany Lions that everyone forgot the program was under major NCAA sanctions eight years ago. Franklin led the program out of the darkness and made everyone forget about Bill O'Brien. He always recruits like a monster and Penn State has had some of the best talent in the Big Ten the past five seasons. Not to mention Franklin delivered the program a Big Ten Title in 2016. Year in and year out Penn State is constantly putting players on both sides of the ball in the NFL and that trend won't stop anytime soon with Franklin on the sidelines. Franklin has swagger and his outgoing personality fits well with 18 and 19-year olds.
12. P.J. Fleck, Minnesota: Every year under his watch he has improved the Golden Gophers win total. Minnesota won five games in Fleck's first year, seven in his second and 11 this past season. It was the most in a single season with the program since 1904. Fleck's Row the Boat motto has made him one of the most hated coaches in the game, but no one can deny his success. He's another coach that does more with less and this year's Draft was proof of Fleck's work. The Golden Gophers had five players selected, which was the most from the program since 1990. This fall Fleck returns a 3,000-yard passer, a 1,000-yard rusher and a 1,000-yard receiver. The perfect time to take the West is now for Minnesota.
11. Jim Harbaugh, Michigan: He catches a ton of slack for not being able to beat Ohio State the past five seasons, but there's no denying he's one of the best coaches in the Power Five. You have to relive the Rich Rodriguez and Brady Hoke years to truly appreciate Harbaugh's work. If it wasn't for a controversial first down ruling in the 2016 game against the Buckeyes, the Wolverines could've potentially clinched a Playoff berth. Harbaugh rocks the khaki pants and he's witty, but he's an elite recruiter and gets his players physically and mentally ready for the NFL. He has never suffered a losing record in conference play with Michigan and has gone 32-12 in the Big Ten the past five seasons.
10. Dan Mullen, Florida: After leading the Gators for the past two seasons, the hype train is back in Gainesville. Mullen is coming off of back-to-back double-digit win campaigns that includes two bowl wins. Not to mention Mullen has a Heisman contending signal-caller this fall in Kyle Trask. The former Mississippi State Coach is a quarterback guru, having coached Alex Smith, Tim Tebow and Dak Prescott. Recruiting has been on fire and Florida is back to being the No. 1 program in the state. The only piece that's standing in Mullen's way is Georgia. It's no mystery that in order for the Gators to take that next step as a program, they have to get by the Bulldogs and the team in Athens will have a new backfield this fall. This will be Mullen's best chance to take over the East.
9. Jimbo Fisher, Texas A&M: He's one of four coaches on this list with a National Championship. Fisher resurrected the Florida State program from the last mediocre years of the Bobby Bowden era. Despite the fact that the Seminoles have suffered drastically since his departure, there's still no denying that Fisher is a recruiting juggernaut. Texas A&M made him one of the richest coaches in College Football and the fans are expecting big things soon. Unfortunately the Aggies have had one of the toughest schedules in the entire FBS the past two seasons, but Fisher still led them to 17 wins. The team's talent level has been upgraded and Fisher doesn't suffer late season collapses like his predecessor Kevin Sumlin.
8. Ryan Day, Ohio State: The former Buckeye Offensive Coordinator took the reigns of the program from Urban Meyer and never looked back. Ohio State is coming off its' best year since 2014 after Ryan's first full season on the job. The program continues to rule the Big Ten with an iron fist and has the best talent in the league from top to bottom. Day doesn't have to be the recruiter Meyer was, considering the team is stacked for years to come. However, he has great chemistry with his quarterbacks and Justin Fields will be the Heisman favorite heading into the 2020 season. Ohio State has turned back into a National Championship or bust type program and won't settle for nothing less.
7. Brian Kelly, Notre Dame: He has been the Fighting Irish's most successful coach since Lou Holtz. Kelly is one of the game's most winningest coaches of the past decade and led Notre Dame to a berth in the BCS National Championship Game and the Playoffs during that span. Notre Dame has been able to lure in talent because of its' legendary brand, but Kelly gets the most out of his players in the process. The Fighting Irish are coming off of three double-digit win seasons in the past four years and several of Kelly's players went on to be drafted. The Fighting Irish fans know Kelly can get the team to the finish line, but has yet to cross it. He'll have a chance this fall with Heisman hopeful Ian Book returning at quarterback.
6. Kirby Smart, Georgia: Arguably one of the best recruiters in the game, who owns the SEC East until some other coach steps up to take his place. If it wasn't for busted coverage, Smart would've led the Bulldogs to their first National Championship since 1980. Georgia has some of the best talent in the country though and Smart grooms his players into All-SEC caliber athletes. The Bulldogs have been in the SEC Championship the past three seasons, winning one and there's no reason why Smart can't make it four-straight. Wake Forest graduate transfer Jamie Newman is on campus and the quarterback is a safe bet to keep the wheels rolling for Georgia.
5. Mario Cristobal, Oregon: In just three seasons he has clearly taken over the Pac-12. Nike University always has had its' perks, but now the Ducks are luring in elite talent from California and keeping prospects from signing with USC. Oregon was one win away from clinching a berth in the Playoffs. Still, Cristobal led his team to Pac-12 Title and a Rose Bowl victory for the first time since the 2014 season. He's recruiting like a monster on the west coast and the Ducks have won 21 games the past two seasons. As of now, Oregon is the only credible team in a conference that has been left out of the Playoffs for the past three years. However, the Ducks have a chance to make another run at the Playoffs this fall with a strong schedule to support their cause.
4. Lincoln Riley, Oklahoma: All he has done is lead the Sooners to three-straight Playoff berths and two Heisman Trophy winners over his first three years on the job. Riley is a quarterback guru and Oklahoma still owns the Big 12 until further notice. The 36-year old has an eye for talent that fits his system like a glove and he coaches his players up to their potential. Riley has fielded some of the best offenses the game has seen and the unit always puts up video game numbers on Big 12 opponents. Unfortunately the Sooners problem have been defense and maybe the Big 12 doesn't prepare them well enough when it comes time for post season play.
3. Ed Orgeron, LSU: He's one of the most mocked coaches in today's game, but no one can deny that he's a true National Champion. Orgeron has paid his dues and built the Bayou Bengals back into a major factor in the SEC West. No longer is Orgeron standing in Nick Saban's shadow after leading the Bayou Bengals to their first-ever Heisman Trophy winning quarterback and first National Championship since 2007. He continues to load LSU's roster with the best talent College Football has to offer. As much success as Orgeron had in 2019, his biggest coaching job to date will be replacing all the departed talent from last season's National Championship team. Still, it's Geaux Tigers.
2. Dabo Swinney, Clemson: He's an elite recruiter, a great game day motivator and one of the most respected coaches in the sport. Swinney took the program to heights Clemson fans never thought was possible under Tommy Bowden. Clemson snatched the red carpet from under Florida State and been ruling the ACC ever since. The Tigers have the nation's-best, 22-home game win streak and have played in the National Championship Game four of the past five seasons, winning two. With Brent Venables by his side as Clemson's Defensive Coordinator, Swinney will have the Tigers in contention for all the marbles every season. Not to mention he continues to stockpile Tiger players in the NFL.
1. Nick Saban, Alabama: There's no denying who's numero uno in College Football. Saban has won a National Championship at two different programs, recruits like no other and puts the most players in the NFL. At this point in his career Saban has nothing to prove. However, he only needs one more National Championship to pass Bear Bryant with the most ever by a College Football coach. Saban continues to field the most talented team in today's game and takes other coaches under his wing who are looking for a fresh start. Several of his proteges are scattered across the SEC. Which makes Saban one of the most influential individuals in the sport and until he decides to retire, he'll remain the No. 1 coach.