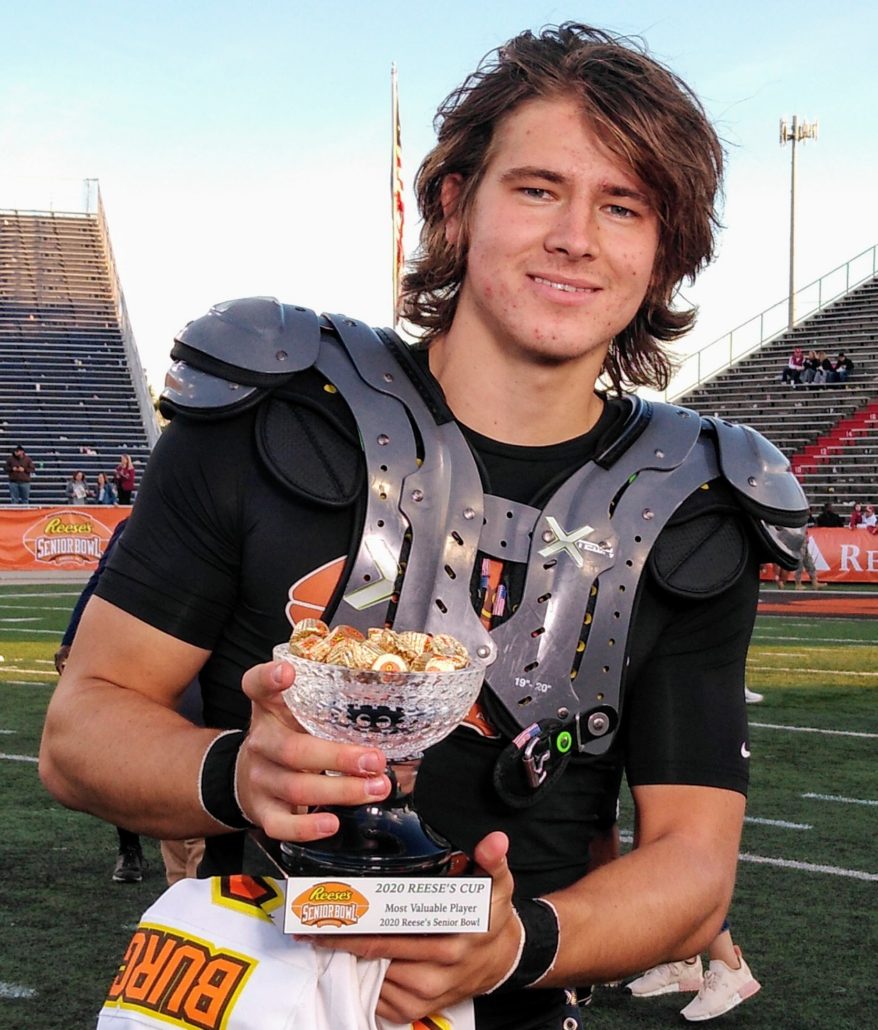 He's a highly regarded NFL Draft prospect, but has nothing to prove at this point.
After all, Herbert showed he's loyal after returning to Oregon for his senior season. His decision didn't go down in vain because he proved to be a winner after leading the Ducks to a Pac-12 Title and Rose Bowl victory. Not to mention Herbert finished his career as the Ducks' No. 2 all-time leader in passing yards, passing touchdowns and was named the Most Valuable Player of the Granddaddy.
Herbert didn't have to participate in the Senior Bowl considering he was already projected as a top-10 pick since the end of his junior year. The former three-star prospect even mentioned that he felt no pressure to perform at a high level. Herbert got down with the best of the best in Mobile and was named the Senior Bowl M.V.P.
Unlike some top quarterback prospects of recent years, Herbert didn't have nothing to hide and participated in throwing drills at the NFL Scouting Combine where he impressed many with his accuracy and zip. If that wasn't enough to impress the scouts the 21-year showed his tremendous arm strength at his Pro Day.
It solidified that Herbert is the real and a can't miss prospect for the Miami Dolphins and Los Angeles Chargers.
Rumors have been swirling around all week about Tua Tagovailoa slipping on everyone's draft boards, while Herbert remains the wild card. Being from Eugene means he's a west coast kid at heart, so the city of angels would be convenient.
Still, who wouldn't want the luxuries of Miami, with the sunshine, beaches and nightlife extravagant. There's no denying both franchises need a signal-caller bad. Several Dolphin fans are still scratching their heads to how Ryan Tannenhill slipped through door crack. The Chargers parted ways with Philip Rivers after 16 years. Now the team is sitting with the sixth overall pick and an opportunity to land a franchise quarterback.
Like Marcus Mariota, Herbert will likely be the No. 2 quarterback selected in the first round. It remains to be seen if the Dolphins gamble on a brittle, injury-prone Tagovailoa or a proven signal-caller that has conquered every obstacle put before him. Herbert has the height at six-foot-six to see over defensive linemen. He also made his teammates better, which only great quarterbacks can do.
The only knock critics could give Herbert is that he's coming from the Pac-12, a conference that has missed out on the Playoffs the last three years. Still, the Rams' Jared Goff and the Jets' Sam Darnold are both former Pac-12 quarterbacks. The two were drafted in the first round and are making a name for themselves in the NFL.
Herbert's ceiling might be even higher and he has tremendous upside. With that in mind, it's a no-brainer on who should be the fifth overall pick in today's Draft. The worst case scenario is the former Oregon quarterback falls to the sixth pick, but stays close to home.
Regardless of the matter, whichever team lands Herbert, they'll be getting an individual with an unbelievable journey, who's out to prove that he's the best quarterback in this year's Draft class.