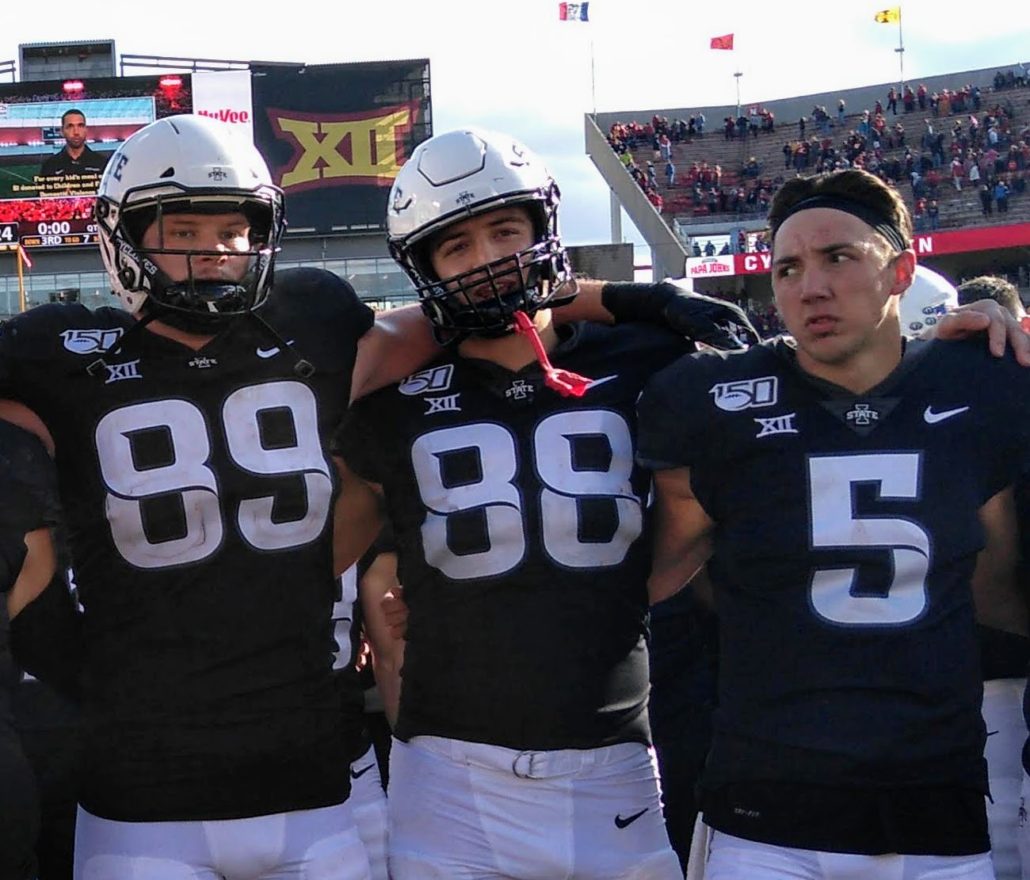 They are the unsung heroes when it comes to the pass catchers.
However, tight ends have some of the most important responsibilities on offense. They have to effectively block rather the offense is running or throwing the ball. Not to mention they are often dialed up to move the chains on key third downs.
Most importantly, in order to be effective at the position, a tight end has to deliver in the clutch. So rather they are a first, second, or third read when quarterbacks go through their progression, tight ends are relied on to be the ultimate safety blanket. All of the players on this list have displayed these traits, which led to their success last year and they are looking to ride that wave of momentum into the 2020 season.
10. Hunter Long, Boston College: The New Hampshire native caught 28 passes, led the Eagles in receiving yards and earned third-team ACC last season. Long presented numerous mismatches out in the open field and averaged over 18 yards per catch. Standing at six-foot-five and weighing 255 pounds, Long has the ideal size to play the position and not afraid of contact. The former three-star prospect will be a great piece for new coach Jeff Hafley to build the Eagles' offense around.
9. Jake Ferguson, Wisconsin: The Badgers are known for producing great tight ends and Ferguson is the next in line. It takes a lot of responsibility to successfully play the position for a run-oriented team. Ferguson's 33 catches and 407 receiving yards ranked second on the team. The six-foot-five, 246-pounder caught four or more passes against Michigan State, Illinois and Oregon. The hometown kid has 69 receptions, 863 yards and six touchdown catches the past two seasons.
8. Noah Gray, Duke: Coach David Cutcliffe knows offense and Gray is another solid tight end making noise for the program. The former three-star prospect hauled in 51 passes, which led the Blue Devils and earned second-team All-ACC last season. The Massachusetts native caught six or more balls in four different games and had two touchdown receptions in the blowout win over Virginia Tech. Gray has 71 career catches for 626 yards with Duke and his senior year alone will likely duplicate those numbers.
7. Pro Wells, TCU: He only caught 17 balls last season, but five of them went for touchdowns, which tied for first on the team. Wells had a touchdown reception against Kansas, Texas and Oklahoma State. The Florida native also caught two touchdowns in the shootout home loss to SMU. Not too shabby for a former three-star prospect to earn second-team All-Big 12 honors as a true sophomore. Having more reps with quarterback Max Duggan should make Wells production increase this fall.
6. Brevin Jordan, Miami: The former four star prospect had a fabulous true sophomore campaign, with nearly 500 receiving yards on 35 catches. Jordan caught five or more passes against Florida, Virginia Tech, North Carolina and Florida State. The Las Vegas native had a touchdown reception against the Gators, to go along with two more against the Hokies, when Jordan eclipsed the century mark in receiving yards. He was a Mackey Award finalist and earned first-team All-ACC. The six-foot-three, 235-pounder increased his production from 2018 and has 67 catches for 782 yards and six scores over the past two seasons.
5. Jalen Wydermeyer, Texas A&M: He made a name for himself in the SEC and led the Aggies in touchdown receptions as a true freshman. Wydermeyer had two touchdown catches against Alabama. Not to mention the former four-star prospect also had touchdown receptions against Texas State, Clemson, Mississippi State and UTSA. He knows how to use his six-foot-five frame to his advantage, and caught at least four passes in four different games. Wydermeyer's 32 catches for 447 yards and six touchdowns earned him freshman All-America honors. 
4. Pat Freiermuth, Penn State: He's one of the most athletic tight ends on this list and had a very productive sophomore campaign. Freiermuth caught a touchdown pass against three different Big Ten opponents, including three at Michigan State. The former four-star prospect also had eight receptions and two scores in the win over Buffalo. Not to mention he went over the century mark in receiving yards against Minnesota. Freiermuth earned All-Big Ten honors after finishing last season with 43 receptions, 503 receiving yards and seven touchdown catches. In two seasons with the Nittany Lions the Massachusetts native has  69 catches, 875 yards and 15 touchdowns.
3. Kyle Pitts, Florida: The Philadelphia native led the team with 54 catches, which was the third-most among tight ends last season. Pitts has tremendous size, standing six-foot-six and weighing 239 pounds and he uses his frame to his advantage. He had a touchdown catch against Vanderbilt, South Carolina and Tennessee. The former four star prospect had at least five or more receptions in four different games against Power Five competition. Not to mention he surpassed the century mark in receiving yards against LSU. Pitts finished his true sophomore campaign with 649 receiving yards, five touchdown catches and earned first-team All-SEC.
2. Brant Kuithe, Utah: The former three-star prospect started nine games and led the Utes in receptions, receiving yards and touchdown catches last season. Kuithe showed his versatility running and catching the ball during his true sophomore campaign. The six-foot-two, 235-pounder scored nine total touchdowns, which tied for first in the FBS among tight ends. Kuithe also averaged 17.7 yards per catch, which ranked fourth in the league and earned second-team All-Pac-12. The Texas native has 52 catches over the past two seasons with Utah, but with a new backfield this fall, Kuithe may have his most productive season yet.
1. Charlie Kolar, Iowa State: He is an absolute nightmare out in space for defenders and used his vertical to snag 51 balls, 697 receiving yards and seven touchdowns. Kolar is a two-time All-Big 12 tight end, but became a household name in the league this past season. The Oklahoma native had a career-high, eight catches against Oklahoma State and went over 100 receiving yards against Kansas. The six-foot-six, 252-pounder caught all of his touchdowns against Big 12 competition, including two in the win at Texas Tech. It's amazing how Kolar went from being a three-star prospect to earning third-team All-America honors after his sophomore year. The Sooners are probably kicking themselves for letting the Cyclones snatch him out of their backyard.
Honorable Mention
Peyton Hendershot, Indiana: He caught 52 passes for 622 yards and four touchdowns last season. Hendershot had six catches apiece against Maryland, Penn State, Michigan and Tennessee. He also caught a touchdown in three of Indiana's first four games and earned third-team All-Big Ten. Unfortunately, Henershot's playing career is in jeopardy due to felony charges and he was suspended indefinitely back in February.
Chase Allen, Iowa State: Another Cyclone, who's a two-time All-Big 12 performer. Allen along with Kolar form the one of the best tight end tandems in the nation.
Luke Farrell, Ohio State: He only caught seven passes last season, but two of them went for touchdowns and it was enough to earn him All-Big Ten honors.