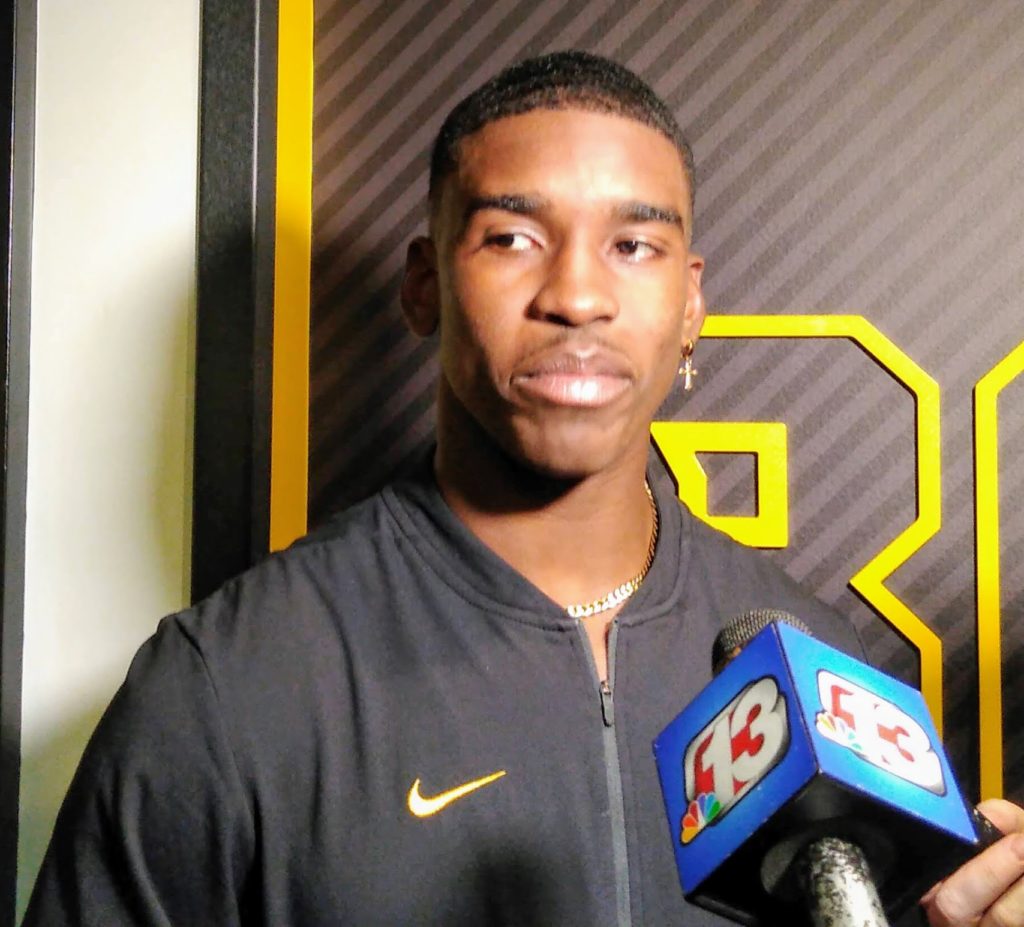 IOWA CITY, Ia. — The junior corner has been working on his craft since high school and was rewarded his first career interception against Wisconsin last Saturday.
It has been a long maturation process for Matt Hankins, but everything is starting to pay off for the 20-year old and he credits it to his film study. Throughout the spring Hankins teammates teased him about when he was going to pick off his first pass, which gave him motivation.
That's why Hankins works hard each day to be the best player he can be and knows his strength is his versatility. He played the corner, safety, nickel and the CASH position in Phil Parker's scheme throughout the spring and feels it has made him the defensive back he is today.
"I feel like my game has improved a lot, especially this year watching film and that helps me know the formations a lot better and know what plays are coming," Hankins said. "It allows me to react a lot faster."
It has also showed on the field. Hankins tallied 11 total tackles in Iowa's Homecoming win over Purdue and he has 33 total stops on the year, to go along with three pass breakups. Still, he's not satisfied with his performance and refuses to be complacent.
"I could've done a lot better as far as coverage," he said. "I led in tackles because my receiver was catching balls, so I wouldn't take it as a high praise."
The six-foot, 185-pounder has watched some good Hawkeye defensive backs come before him and made a name for themselves in the program. He learned from them all he could, particularly Josh Jackson and soaked up his knowledge like a sponge.
The Texas native also learned valuable lessons from last year's seniors, which was to keep pushing no matter what happens or what's going on with the scoreboard. He molds his game after NFL star defensive back Jalen Ramsey because he's long, lengthy, physical and talks the talk.
Hankins has had his fair share of ups and downs this season. However,  he's happy that he has remained healthy, unlike last year when he broke his wrist and injured his hamstring in the same game.
He has overcome a lot during his career and wants his teammates to rise to the occasion and get the self esteem rolling after coming up two points short in their loss to the Badgers.
"You don't want to keep your head down and let everyone know that you're sad or mad," Hankins said. "That can rub off on somebody else so you want to have positive energy on the field and off the field."
Now Iowa is getting ready to host rival and undefeated Minnesota this Saturday and a blackout crowd will be expected at Kinnick Stadium. Hankins knows the Golden Gophers have some talented receivers that'll test everything he has learned thus far.
Still, it's nothing new to him, having faced versatile wideouts in practice all year. Hankins wants to remain aggressive in Iowa's secondary, especially against the run. He's also roommates with fellow defensive backs Geno Stone and Michael Ojemudia and all they do is eat, sleep and breathe football. Not to mention they all try to guide the younger Hawkeye defensive backs.
They all need to rally behind each other and be ready for the tough task of shutting down Minnesota's passing attack if the Floyd of Rosedale trophy  is going to stay in Iowa City for a fifth-straight year.