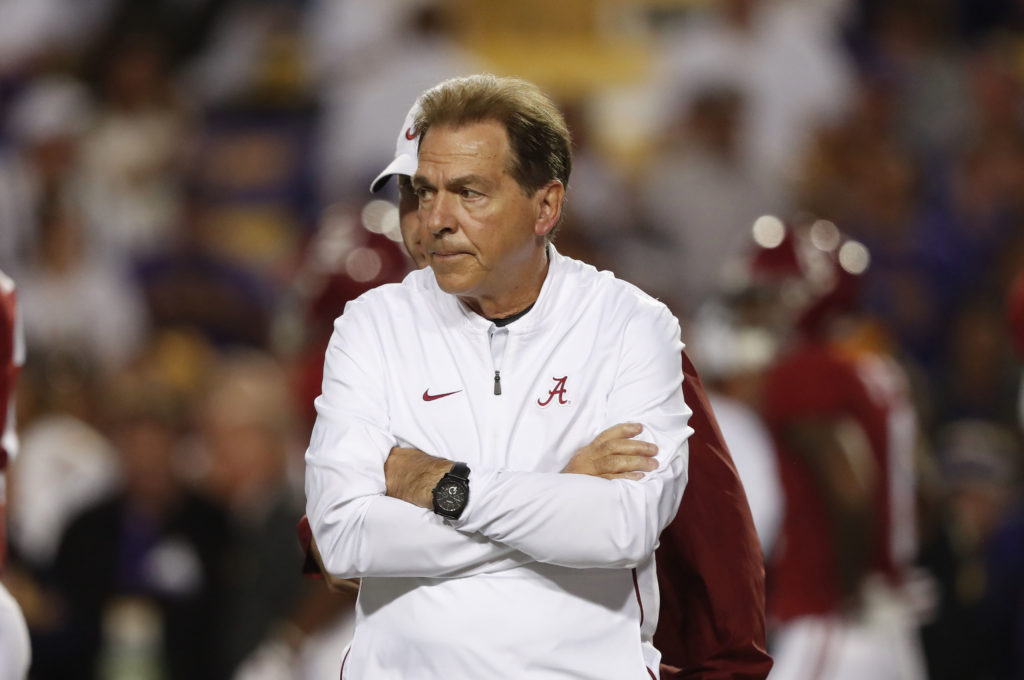 Alabama has two weeks until the game of the year with LSU at Bryant-Denny.
The Crimson Tide's Heisman hopeful Tua Tagovailoa suffered a high ankle sprain last week against Tennessee and won't play Saturday. Nick Saban initially ruled Tagovailoa out for a week or two. However, a high ankle sprain is an annoying injury to recover from and can take up to a month for certain individuals to heal.
Maryland's quarterback Josh Jackson is been rehabbing the same injury and has missed the team's last two games. Jackson is expected to play this weekend. The time table is tricky when it comes to the injury and it remains to be seen if Tagovailoa even returns by the LSU game, will he be fully healthy.
Alabama should be able to take care of Arkansas at home with their backups and kicker lined up behind center. However, it'll be awfully hard for the Crimson Tide to beat the Bayou Bengals without their start signal caller. This wouldn't even be a discussion if Alabama had a dominant defense this season. The Crimson Tide currently ranks sixth in the SEC in total defense.
The teams' high-flying offense, that's averaging 50 points per game 48.7 points per game, has overshadowed the defensive deficiencies. The Razorbacks won't be able to expose that, but LSU definitely will without Tua to keep the offense scoring points.
What helps Alabama and this situation is having the bye week after the Arkansas game. This gives an ample amount of time for Tagovailoa to recuperate and be poised for the second half of the season. His Heisman chances took a low blow when he couldn't finish the Tennessee game. Still, with a good performance and a win over LSU, Tagovailoa will emerge back as the Heisman favorite.
As for now Alabama is the No. 1 team in the country, but with Ohio State and LSU in blockbuster games this weekend, that spot could get snatched. The Crimson Tide has the No. 1 brand in College Football and enough five-star talent across the roster to keep the team high in the rankings during their week off anyway.
Saban will want to be cautious with Tagovailoa's ankle though. After all, he has a bright future at the next level and don't want to jeopardize it all by being rushed back. It'll be interesting to see how it all plays out in a couple weeks.