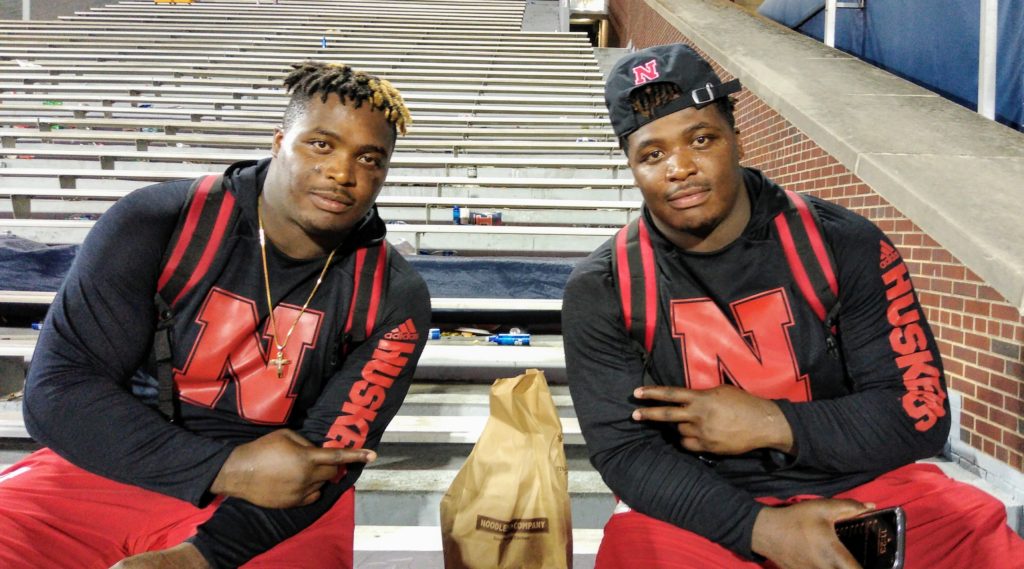 The Davis twins witnessed Nebraska Football undergo two coaching changes, including one before they even arrived on campus.
Three losing seasons later and the two never questioned where they ended up playing College Football. They initially committed to Bo Pelini's staff, but later reneged after he was fired. Kansas State and Missouri stepped in and tried to lure in the two. However, Mike Riley brought his entire defensive staff to the Davis' house to win the twins back over.
Then Riley was let go after three seasons and Carlos and Khalil were apprehensive on where their collegiate careers were headed. The program was in a state of emergency and the duo could've took the high road and transferred. Still, they stayed put because Scott Frost was coming back to lead his alma mater.
Frost came with instant credibility. After all, he won a National Championship as a player, coached on the sidelines for another and was fresh off a 13-0 season with Central Florida. Carlos and Khalil embraced him, knowing Frost and his staff were going to bring about a much-needed culture change to the program.  Not to mention revive their careers in Lincoln.
"They did a good job of coming to us as men," Carlos said. "Just doing the right things on and off the field and we took it by storm."
It didn't start out pretty and Nebraska was 0-6 for the first time in school history in the initial year of Frost's tenure. The Huskers did show Frost's scheme had potential in the Big Ten and won four of their last six games. Halfway through this season and the Huskers have joined the elite 900-win club. Not to mention Nebraska is in search of its' fifth win of the season and October isn't even over yet.
"Our four years here hasn't been the best, but we finally got this thing turned around," Carlos said. "That just shows what Coach Frost was able to do, what his staff taught us when they came in and how they continue to teach us."
The twins have seen a lot in their senior year thus far. The Huskers suffered an overtime loss at Colorado, got the monkey off their backs on the road against Illinois and won a game by a field goal over Northwestern. It's improvement Khalil appreciates, knowing the tough journey he has witnessed the program go through in the last four years.
"It feels good and it also helps us know we're going in the right direction as a team," he said. "We're doing the right things, paying attention to detail during the week."
The Blackshirts have allowed opposing offenses to score 34 or more points on them four times this season, including three of them losses. Now the team is in a desperate need for a conference win to stay alive in the Big Ten West. The two have been on both sides of winning and losing.
They understand that being successful at this level requires dedication and hard work. Both were humbled by the blowout losses, but take pride in the gutsy wins. Everything took a turn for the better after the win at Illinois. At that time the team showed perseverance and the twins found out a lot about themselves. It definitely was a moment of pride.
"We grind all week, we grind all spring, all summer and that performance we did that a long time ago, to pull that out and finish the game," Carlos said. "We've been in that position before and knows what it takes to get a win."
Carlos and Khalil never take anything for granted and know plenty of people wish they were in their shoes, playing alongside their sibling. Nebraska actually has two sets of brothers on the defensive line alone. Darrion and Damon Daniels are the other two and Carlos believes it helps with their chemistry on the field.
"It's weird because people always ask what's it like playing with my brother, but I've been doing this all my life," Khalil said. "It's awesome, it's a blessing and it brings that family feel because I know he got my back."
The Davis twins looks to anchor the Blackshirts up front this Saturday, hoping to cause havoc on Indiana's signal caller. Frost will need both individual's experience, leadership and production in a pivotal game the Huskers must win.