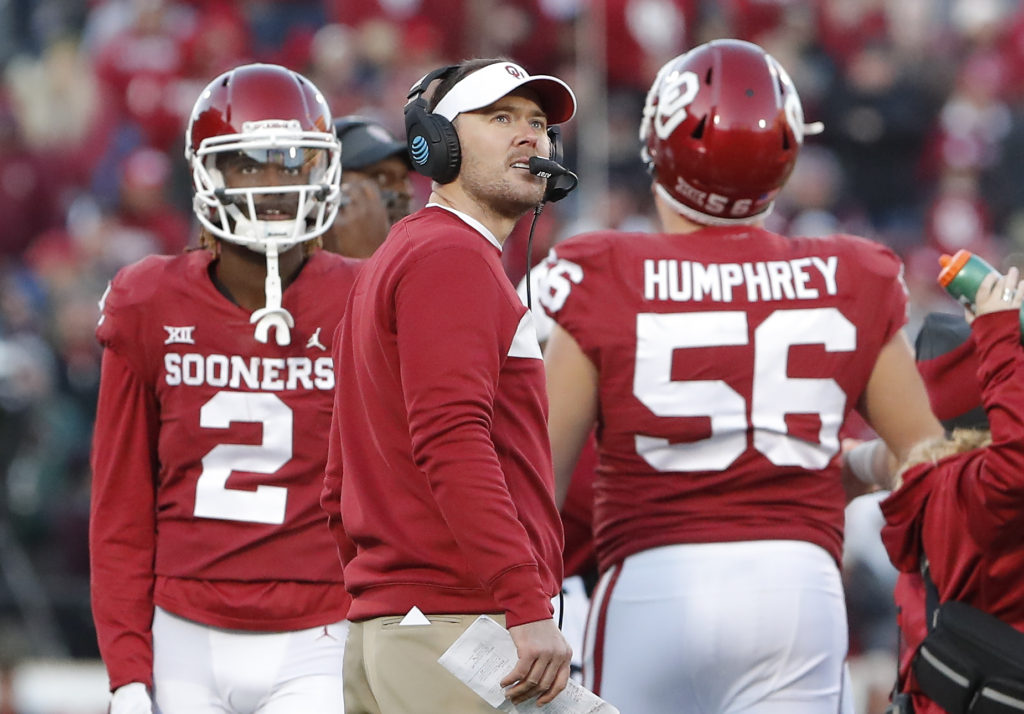 Eight weeks into the season and Oklahoma is the No. 5 team in the country, but still chasing Alabama, LSU, Clemson and Ohio State in the AP Poll.
All five programs are currently undefeated and the SEC will eventually sort itself with the showdown in Tuscaloosa looming three weeks from now. However, after beating Texas, Oklahoma likely won't face another top-15 team for the rest of the season.
This could potentially jeopardize the teams' two-year Playoff streak. It's very possible that the loser of the game between Alabama and LSU may still be ranked ahead of Oklahoma. Clemson should have no problems running the table in a watered-down ACC and Ohio State still has to play two teams currently ranked in the top-10.
Not to mention a win over Ohio State could potentially boost Wisconsin or Penn State past Oklahoma into that No. 4 spot. In hindsight the Sooners are not in a good position, but there's still a ton of football to be played and the team has put together a great resume thus far.
Oklahoma is averaging 50.2 points per game and leads the nation in total offense. Senior quarterback Jalen Hurts is No. 2 in the nation in total offense, averaging 398 yards per game. Coach Lincoln Riley may very well have his third-straight Heisman winning signal-caller if Hurts continues at this rate.
Junior CeeDee Lamb has been a flat-out beast through six games, dominating opposing secondaries. He's arguably the nation's best wide receiver and tied for first nationally, with 10 touchdown catches.
The Sooners are allowing 340.3 yards per game, which ranks 41st in total defense. Still, it's a drastic improvement from allowing 453.8 yards per game and finishing 114th nationally in that category last season. Plus the defense has 22 sacks this season, second-best in the Big 12 behind Baylor.
There's a lot to like about Riley's team on both sides of the ball. The strength of schedule is what might haunt the Sooners at the end of the regular season. The Big 12 is full of parity and Oklahoma may not be battle-tested enough once its' all said and done. Speed and matchup problems have both played a huge factor in both of Oklahoma's last two Playoff appearances.
Regardless of how everything plays out when the Committee releases their final top-four, all the Sooners can do for now is continue winning. Oklahoma may have to win the remainder of its' games with style points, but they've passed the eye test up to this point.