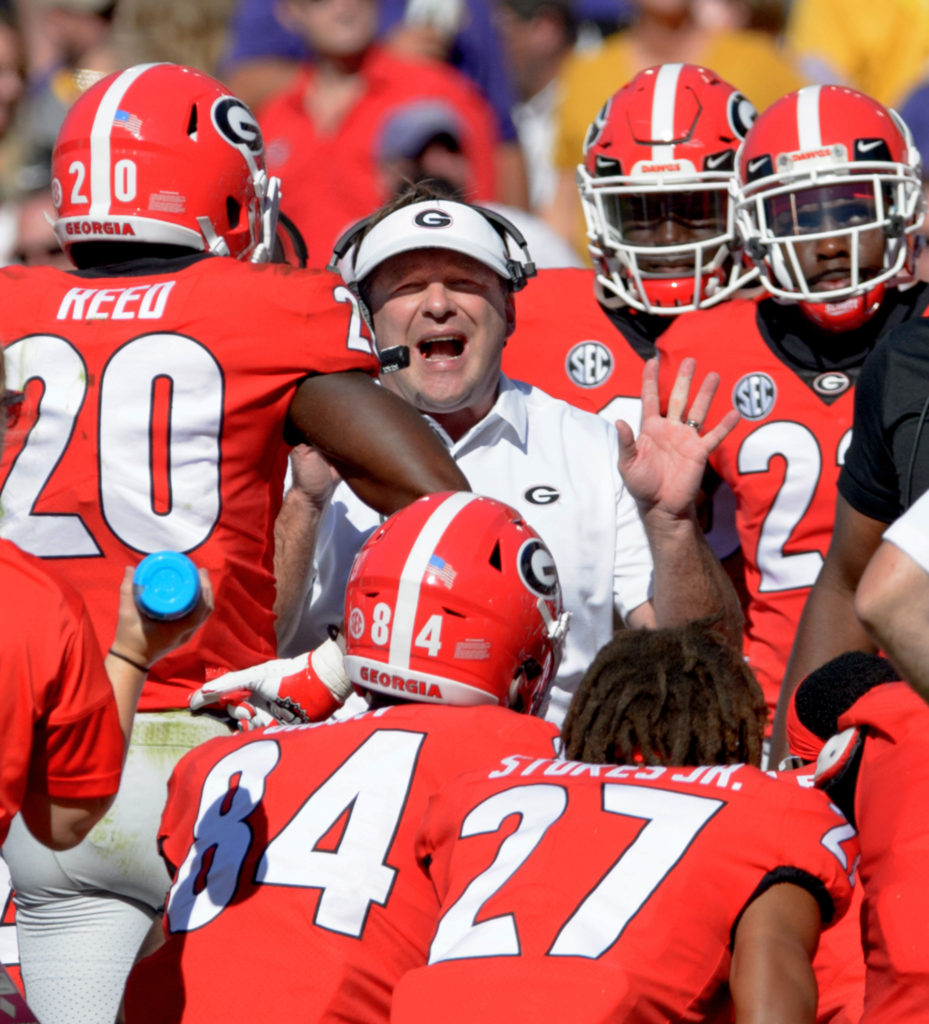 It remains to be seen if Georgia's loss against Texas in the Sugar Bowl was just a fluke.
The Bulldogs didn't bother showing up in that game, played uninspired and has yet to recover from that loss. Three games into the season and Kirby Smart's team still has a lot to prove. None of the Bulldogs' first three opponents revealed much about the team.
As a matter of fact Vanderbilt, Murray State and Arkansas State have a combined 2-6 record so far this season. Still, expectations remain high and Georgia has become a National Title or bust program under Smart.
Right now Georgia's brand is as big as its' ever been. The Athletic Department spends millions on recruiting and the big reason why four and five-star prospects sign with the Bulldogs is because of their blockbuster games on the schedule. Notre Dame hasn't made a trip on the road against an SEC team during the regular season since 2004.
The Fighting Irish are No. 7 in the AP Poll and the No. 3 Bulldogs couldn't have asked for a more quality opponent on their non-conference slate. Saturday night's clash Between the Hedges will have major Playoff implications, big-time recruits and NFL scouts will be in attendance.
The pride of the SEC will be on display and Georgia has an opportunity to seize the moment. A win over Notre Dame could possibly push Georgia into that No. 2 spot in the rankings, with a clear-cut path to the Playoffs. This will be the first big test of the season for both teams and by no means should the Bulldogs be overlooking the Fighting Irish.
Although Notre Dame lost at home to Georgia in 2017, Brian Kelly's squad has shown they can compete with the SEC elite and beat LSU in the 2018 Citrus Bowl. The Fighting Irish's quarterback Ian Book has continued from where he left off last season, throwing for 553 yards, six touchdowns and no interceptions through two games.
However, Georgia's defense has been stifling through its' fist three games, including a shutout last week. Jake Fromm has been using opposing defenses for target practice, with 601 yards through the air, five touchdowns and no interceptions through the Bulldogs' first three games.
It's hard to get a feel on this game because neither team has exposed much of their offensive playbook. So expect a hard-fought game in a venue that's one of the SEC's best, with over 93,000 screaming fans. Kirby Smart has the Bulldogs has lost at Sanford Stadium since  the 2016 season and the team is currently riding a 15-home game win streak.
Notre Dame is the biggest opponent on Georgia's home schedule and has won five-straight road games during the regular season. Something has to give Saturday night and the Bulldogs need to show the nation they are a legitimate top-three team.