Why the SEC will be a quarterback-driven league in 2019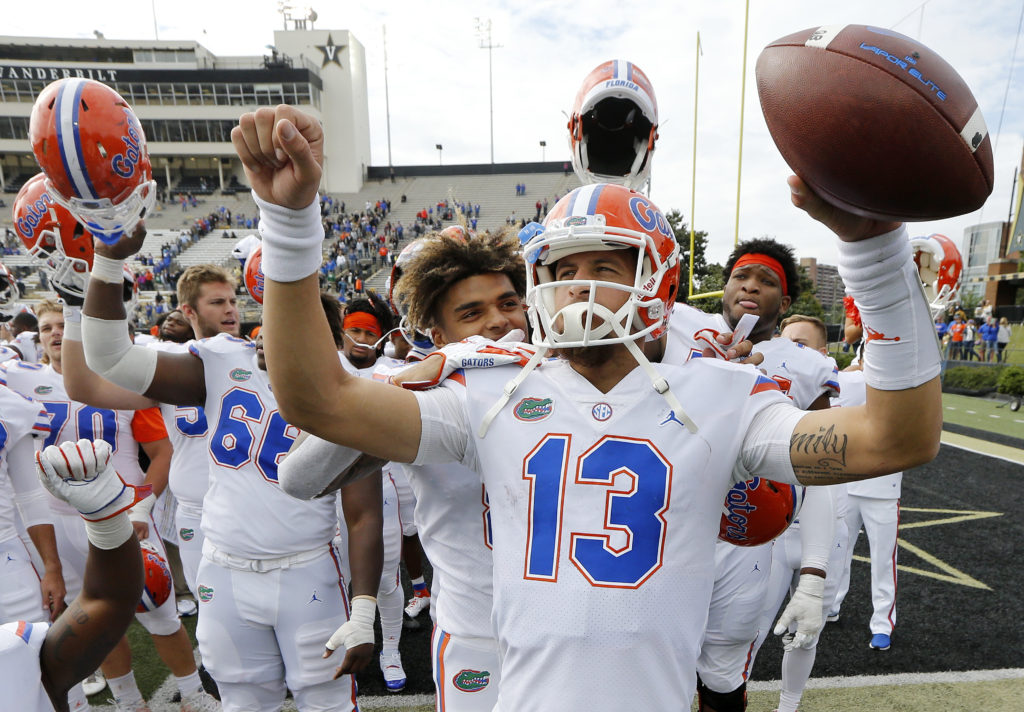 The SEC gained notoriety for its' physicality and tenacious defense over the last four decades.
The league has become synonymous with punishing running backs, colossal stadiums filled with die-hard fans and legendary coaches.
However, the SEC will boast arguably the best collection of quarterbacks in the entire Power Five for the 2019 season. It's extremely rare for the conference to have several teams with proven signal-callers, but it's a great opportunity for College Football fanatics to learn why these players are vital to their teams' overall success this year.
Not taking nothing away from the elite defenses around the SEC, but we could potentially see a record number of points put on the scoreboard this fall from these individuals. Several of these quarterbacks pack the experience, leadership and production it takes to be successful at the position and each Saturday down south will be must-see television.
Here's a quick glimpse at those notable quarterback, what they bring to the table for their respective teams and how they'll make life hard for opposing SEC Defensive Coordinators to game plan around for this upcoming season.
Tua Tagoavailoa, Alabama: He's the most popular signal-caller in the SEC, and rightfully so. Tagovailoa was last season's Heisman runner-up, led the league in passing efficiency and threw for an SEC-best, 43 touchdowns. The Hawaii native didn't throw his first interception until Alabama's ninth game of the season. However, Tagovailoa often times tried to force plays and got banged up towards the finish line. He was humbled in last year's National Championship Game as the Crimson Tides' offense only mustered 16 points and lost by four touchdowns to Clemson. Tagovailoa claimed he has learned from the moralizing defeat and will come into the 2019 season with a chip on his shoulder. Alabama has arguably the best group of receivers in the Power Five, including last year's Biletnikoff Award winner in Jerry Jeudy. Which means Tagovailoa has the potential to top last year's numbers, when the Crimson Tide's offense led the SEC with 85 total touchdowns.
Jake Fromm, Georgia: Last season Fromm blocked out all the outside noise of Justin Fields arriving on campus and taking his starting spot. He let his game speak for itself, continued to lead the Bulldogs offense and Fields wound up fleeing to Ohio State. The situation was nothing new to Fromm, having beat out Jacob Eason the year prior. For the first time in his collegiate career he no longer has to deal with a quarterback controversy heading into the 2019 season. He has thrown for 54 touchdowns in two years with the Bulldogs, including 30 last season, which was second-best in the SEC. Despite those jaw-dropping numbers, Fromm failed to earn All-SEC honors. He lost his top-two pass catchers from last season, plus wide receiver Jeremaih Holloman was dismissed from the team less than a month ago. Still, Kirby Smart is confident in his junior signal-caller and this fall could potentially be Fromm's best season yet.
Joe Burrow, LSU: The former Ohio State transfer was an unknown commodity entering last season for a program that hasn't had much stability at the quarterback position. Burrow flew under the radar because he failed to beat out Dwayne Haskins in Columbus, but he proved to be the signal-caller Coach Ed Orgeron needed. Burrow wound up throwing for a career-high, 2,894 yards, 16 touchdowns, and his five interceptions tied for a league-best. The Bayou Bengals won 10 games for the first time since 2013 and their offense averaged 32 points per game. There also has been a lot of buzz behind his name throughout the off season after Burrow's performance in the Fiesta Bowl win over UCF. His receivers were all young and inexperienced last year, but are now seasoned and developed. Burrow won't be sneaking up on anyone this time around and defenses will be coming for him. Which means LSU's offensive line will need to keep him upright after allowing a league-high, 35 sacks last season.
Feleipe Franks, Florida: Dan Mullen is a proven quarterback guru and left his mark on Florida's offense and Franks last season. Franks increased his touchdown passes from nine to 24, his interceptions from eight to six and his yards from 1,438 to 2,457. The Gators won 10 games for the first time since 2015 and finished the season ranked in the top-10 for the first time since 2012. Florida also ended last season on a four-game win streak. The team averaged 45 points per game and Franks threw for 862 yards, eight touchdowns and no interceptions during that span. He also was effective with his mobility, with 350 yards on the ground and seven rushing scores. Gator fans believe Franks is due for an All-SEC caliber junior season and he's very confident in himself and his teammates. Look for Franks to finish where he left off last year.
Kellen Mond, Texas A&M: He had a solid true-sophomore season as the Aggies' full-time starter. Jimbo Fisher found ways to use Mond's raw talent that former Texas A&M Coach Kevin Sumlin never could. Mond threw for 3,107 yards, 24 touchdowns, nine interceptions and finished fourth in the SEC in total offense last season. He nearly led the Texas A&M to a come-from-behind victory over Clemson. Mond is probably the most gifted athletically out of all the quarterbacks in the SEC. He has a cannon for an arm and game-breaking mobility to generate long touchdown runs. The Aggies lost All-SEC tight end Jace Sternberger, but three receivers returning with at least 31 catches from last season. Texas A&M won nine games for the first time since 2013 and the program hasn't seen much buzz at the quarterback position since Johnny Manziel was lined up behind center. The Aggies will need better offensive line play, after giving up 35 sacks last season, which tied with LSU for worst in the league. Mond stated at SEC Media Days that he feels like he's the best quarterback in the league and he'll get his chance to prove it this fall with a challenging schedule.
Jarrett Guarantano, Tennessee: In his second season as the team's starting quarterback Guarantano came into his own as the year progressed. He threw for 1,249 yards, 10 touchdowns and one interception over Tennessee's final eight games. The New Jersey native has thrown 16 touchdowns and five interceptions in his first two seasons with the Volunteers and is primed for a big junior year in Knoxville. All of his top-four pass catchers return from last season and Guarantano should be able to spread the ball around with ease. Tennessee Coach Jeremy Pruitt has a lot of trust in his signal-caller and the Volunteers' will go as far as Guarantano will take them. He should be able to get off to a fast start with the first three games at Neyland Stadium before traveling to the Swamp for the SEC opener in week four.
Kelly Bryant, Missouri: The Tigers' lost their No. 2 all-time leader in passing yards and passing touchdowns in Drew Lock. However, Missouri's offense shouldn't miss a beat with Clemson transfer Kelly Bryant at the helms. The South Carolina native threw for 3,311 yards, 16 touchdowns and three interceptions with his former team. Bryant is a true-dual threat quarterback, with 973 career yards on the ground and an eye-popping 16 rushing scores. Not to mention Bryant will have some experienced pass catchers to operate with in receivers Johnathon Johnson and Jalen Knox, plus tight end Albert Okwuegbnam. The trio combined for 129 receptions, 1,622 receiving yards and 14 touchdowns last season. The Tigers' offense have the firepower to improve on the units' 36 points per game from last year.
Sawyer Smith, Kentucky: He started the final seven games for Troy last season under Neal Brown. The graduate transfer threw for 1,669 yards and 14 touchdowns with the Trojans and finished with a 5-2 record. He has some mobility too, with 191 yards on the ground and a rushing score. Last year's starter Terry Wilson had a solid year for the Wildcats, throwing for nearly 1,9000 yards and 11 touchdowns, plus 547 yards on the ground. Mark Stoops may have a quarterback controversy on his hands going into fall camp. Still, Kentucky is rebuilding on offense and Stoops should feel relieved knowing he have two experienced signal-callers, who are both capable of getting the job done.
Jake Bentley, South Carolina: He had an under-the-radar junior season because the Gamecocks won only seven games. However, Bentley threw for 3,171 yards, 27 touchdowns, 14 interceptions and finished No. 6 in the SEC in passing efficiency. Bentley has 32 career starts, which is the more than any starting quarterback in the league. Bentley is due for a breakout senior season and should be fine just as long as he limits the interceptions. Coach Will Muschamp will be facing a critical fourth year in Columbia and needs Bentley performing at his best. It helps that Bentley has 7,385 career passing yards and 54 career passing touchdowns.
Tommy Stevens, Mississippi State: The former Penn State signal-caller will be immediately eligible to play as a graduate transfer and reunites with his former Offensive Coordinator, Joe Moorehead, who's now leads the Bulldogs. Stevens looks to replace Nick Fitzgerald, who's the program's No. 2 all-time leader in passing yards. Stevens didn't participate in Penn State's Spring Game and sat out with a foot injury. However, he's dangerous with his legs and had 506 career rushing yards with the Nittany Lions to go along with eight touchdowns on the ground. Stevens will be a perfect fit at the right time Moorehead's offense.