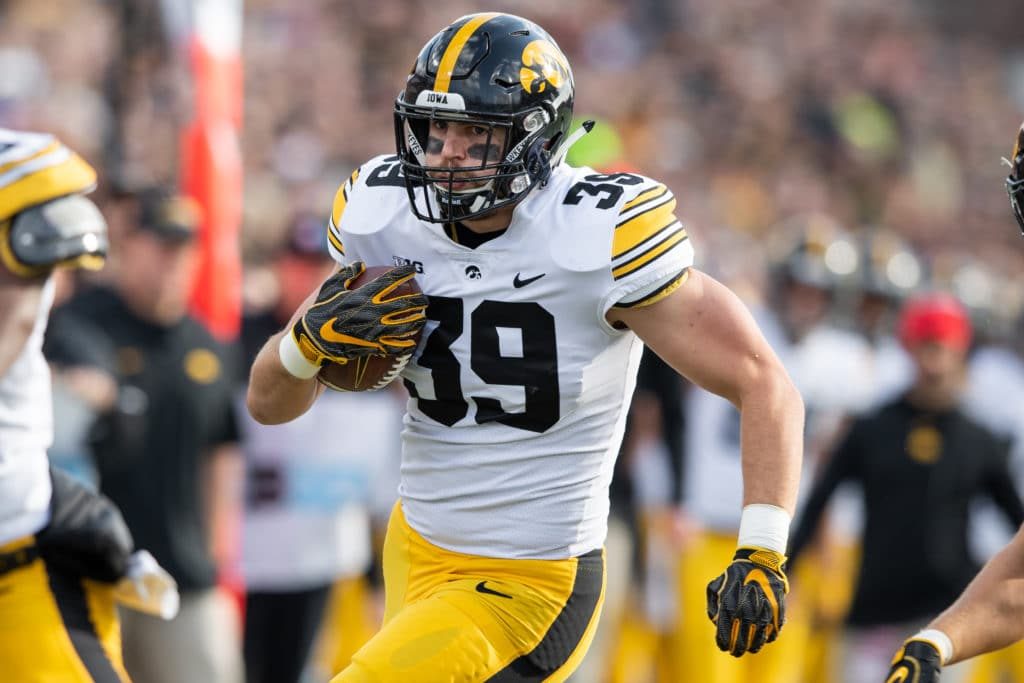 IOWA CITY, Ia. — He watched two of his teammates become first-round, top-20 picks in this year's NFL Draft.
Now Iowa needs to replace the 88 catches, 1,279 receiving yards and 13 touchdown receptions that Noah Fant and T.J. Hockenson provided last season.
Nate Wieting is entering his senior year with just three career catches, however this will be his first season as a full-time starter at tight end. The Illinois native embraces the responsibility and understands the leadership role it takes to play the position for the Iowa Hawkeyes.
After all, Coach Kirk Ferentz has established a pipeline with the position and there's a reason his program been dubbed "Tight End U".  Dallas Clark, Scott Chandler, Tony Moeaki, C.J. Fiedorowicz, George Kittle and Brandon Meyers are other Iowa tight ends who were drafted over the last 16 years.
"That's a really good honor to have to be deemed Tight End U, but I don't think its' any extra pressure from that," Wieting said. "I think there's a standard of operations around here that you're going to come in, do the work, you're going to earn your spot and playing time."
The six-foot-four, 250-pounder has been working hard this off season, focusing on his sleep and hydration outside of conditioning workouts. Wieting feels he has grown stronger and faster by giving 100 percent every rep in every weight room set and that's where his focus has been all year.
Although Fant and Hockenson moved onto the next level, Wieting learned a lot from the dynamic duo. Tight ends contribute in pass production, but being an effective blocker is just as important. Hockenson was the physical blocker for the Hawkeyes, while Fant was a nightmare for defenders to cover out in space.
"I think T.J. was incredibly good with his hands in the run game and you'll see clips of him just hands inside controlling guys all the time," he said. "Noah really attacked guys, just beat them any which way and that's tough to do without getting grabbed, plus how his eyes were with route running."
It has become the norm at Iowa for players to be playing their best football by the time they become upperclassmen. Wieting is trying to improve his game with his fellow tight ends and guide the youngsters along the way. He feels the group has come a long way and that Offensive Coordinator Brian Ferentz keeps them on their toes.
"I think Coach Brian done a great job of coaching us and paying attention to detail with what we need to work on day in and day out," Wieting said. "I think we're improving a lot as a group from top to bottom and have become a lot closer with bringing the freshmen along as well."
Quarterback Nate Stanley will need new big targets to throw the ball to this fall and Wieting is confident in filling that role. Fellow tight ends Shaun Beyer, Drew Cook and Peyton Mansell will all help contribute in the Hawkeyes' passing game and Wieting feels there shouldn't be a significant drop off in production.
"With Stanley I think we've been throwing together for the last three or four years now, so that connection has been there and we've been working on it continuously," he said. "Really that's the goal and I believe I've done that by improving each year and hopefully it all comes together soon."
The Hawkeyes will continue their summer workouts and report to fall camp in early August.