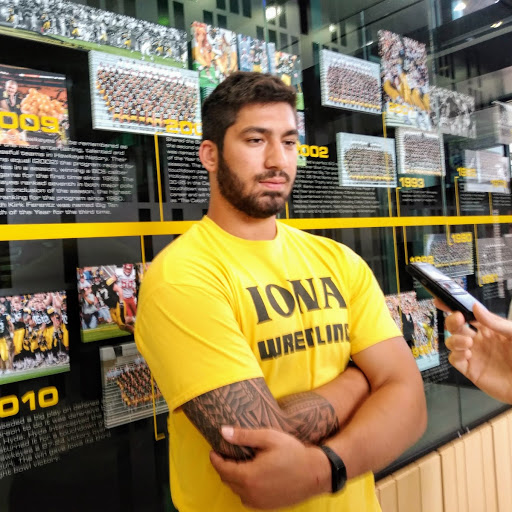 IOWA CITY, Ia. — Iowa's star defensive end has heard it all throughout the off season.
How he's one of the most feared defenders in the Big Ten. Primed for an All-America caliber junior season. Even mentioned by scouts as a potential Top-10 pick in the 2020 NFL Draft. And rightfully so.
After all, Epenesa was one of the biggest recruits in the history of the program and led the Big Ten in sacks as a true sophomore last season, despite coming off the bench. He has become a household name in the Big Ten and has earned every accolade he's been mentioned for and deserves all the recognition.
There's nothing like being the big man on campus, literally. Iowa fans are expecting marvelous things out of the six-foot-six, 280-pounder and with great power comes great responsibility. It all seems like a lot of pressure for a 20-year old student-athlete to handle, but Epenesa dusts everything off his shoulders and treats it all like he's been there before. Epenesa embraces the spotlight, but don't want to get too caught up in the hype.
"I always try to be humble, I always try to focus on the task at hand and that's playing good football," Epenesa said. "Because without playing good football none of those awards, none of those accolades, all these projections don't mean anything if I don't play good football, so that's really what I'm focused on and that's the goal."
Epenesa has faced a similar situation in his life when he had to block out the outside noise and trust his decision-making. The former five-star recruit could've chosen to go to any other Power Five school, but he picked the Iowa Hawkeyes. Which didn't come as a surprise considering his father Eppy Epenesa played for Iowa in the 1990s.
"Iowa was the first to offer and that's when I really took it into consideration that I wanted to play College Football at my favorite school ever," Epenesa said. "This is where I want to go."
Epenesa has lived up to his billing since he arrived in Iowa City and matured through the entire process. He now lives on his own, has blossomed into a leader on the Hawkeyes' defense and broadened his knowledge of the game. His Samoan ancestry runs deep in his veins and he wears it on his sleeve with pride everywhere he goes.
Epenesa also keeps a very close relationship with his parents and siblings. He credits his father for installing that competitive spirit in him at a young age and takes his advice on handling all the hype.
"He tells me really not to think about it much, he likes to look at it and obviously he's very proud, but he always tell me to just keep my eyes straight and to keep focusing on what's going on and to just play my game," Epenesa said. "If I play my game, and I play hard and wok hard my dreams will come true."
The Kansas native has always got it done the blue collar way. Epenesa was an all-around athlete in high school, who also excelled in basketball and track and field. He remembers working out a lot with his father as a youth and believes that's when his love for sports began.
"I guess that's where it all started, that work ethic, all that stuff, waking up and doing that stuff," he said. "It all started in the driveway, in the garage, running hills down the street."
Epenesa is the epitome of what a student-athlete is supposed to be all about. He excels on the field, in the classroom and he's a beloved individual around campus for his kindness and genuine heart. Considered a gentle giant off the field and a untamed beast in the three-point stance. Epenesa continues to lead by example amongst his teammates.
The Hawkeyes' are in their fourth week of summer workouts and Epenesa is glad to be back on the field. He says he feels stronger, in more shape and good overall. Big man, big expectations and he feels Iowa's defense will continue where the unit left off, finishing seventh nationally in total yards allowed.
"I'm confident, the guys put in a lot of work," Epenesa said. "We got a bunch of returning linebackers, the defensive line has a lot of experience and we got safeties returning with a lot of experience."
Epenesa knows he'll be taking on maybe two or three offensive lineman at a time this fall and Offensive Coordinators around the Big Ten will be game-planning and running their schemes based off where he's located on the field.
"If they wanna double team me that's fine, I'm going to work and try my best to beat all those," he said. "But they are going to be leaving open some pretty tough guys in the middle and on the end."
Iowa opens up the season at Kinnick Stadium against Miami(Ohio) on August 31st. The game will kickoff at 6:30 p.m. central time and will be televised on FS1.