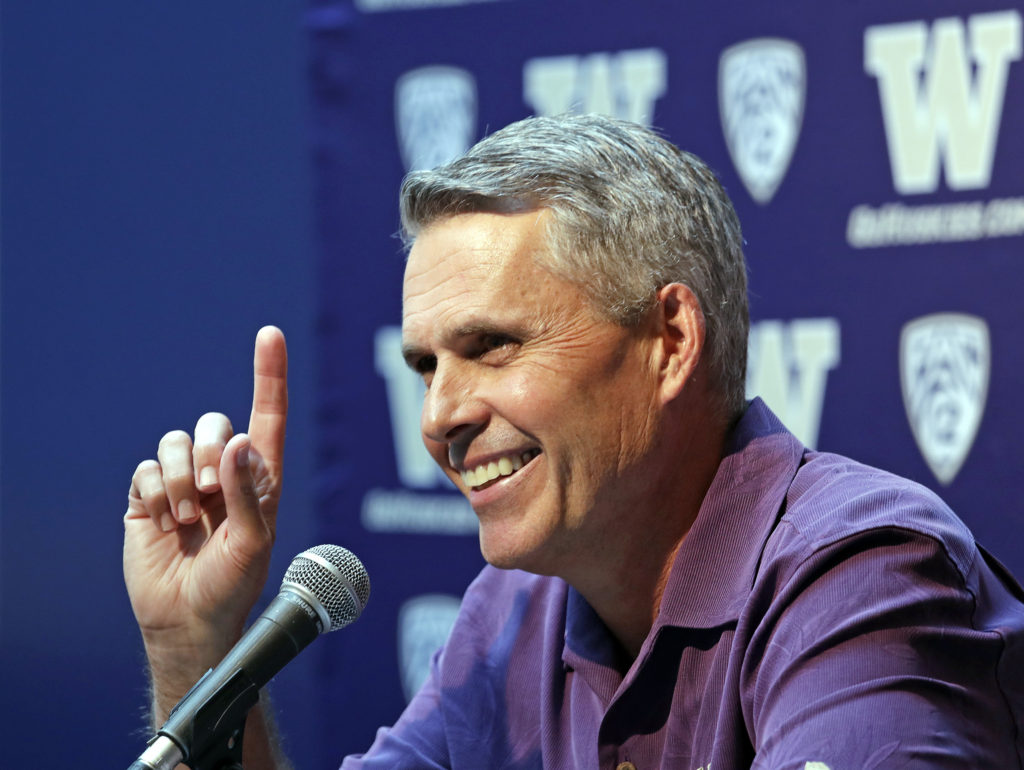 College Football teams are constantly changing from season to season.
Factors such as student-athletes transferring and becoming immediately eligible to play for another school, leaving early for the NFL, injuries and legal troubles all contribute to these ongoing escapades as we approach the new season.
Coaches play a major role in terms of recruiting, resigning from their positions, leaving one job for another and retiring. It's all apart of today's game and has a domino effect on how long a team can remain successful.
In a blink of an eye a program can change overnight for better or worse. It's a challenge coaches face annually and it's hard to replace key player's experience, production and leadership. Here are five teams from each Power Five conference that'll face these types of challenges and situations this fall. It remains to be seen if these programs can keep the momentum going or fall behind.
Kentucky: The Wildcats are coming off their first 10-win season and AP Top-15 finish for the first time since 1977. However, Mark Stoops must find a replacement for running back Benny Snell, who was the heart and soul of the offense and earned first team All-SEC honors. Snell's competitive spirit and leadership was vital and he carried the offense on his back all the way to becoming Kentucky's all-leading rusher. All-SEC guard Bunchy Stallings helped open holes for Snell last season, but he also left the building. Several contributors on the defensive side of the ball must be replaced, including linebacker Josh Allen, who was the SEC's Defensive Player of the Year and a Top-10 NFL Draft pick. The secondary is going through a major rebuilding process after losing corners Derrick Balty and Lonnie Johnson along with safties Mike Edwards and Darius West. The quartet combined for 229 tackles and seven interceptions. The Wildcats were the worst passing team in the SEC last season and must now rely on quarterback Terry Wilson's arm as they navigate through the SEC meat grinder this fall. Too many holes to fill and a bunch of new faces means Kentucky won't repeat as the SEC's No. 2 scoring defense. Not to mention other SEC East division foes are on the rise. Not saying Kentucky will go back to being an SEC cellar dweller, but having back-to-back double-digit win campaigns will likely not happen. Still, a fourth-straight winning season under Stoops will show he has the program in good hands.
Northwestern: The program clinched its' first berth in the Big Ten Championship Game and Pat Fitzgerald delivered Northwestern's fourth-straight winning season and received Coach of the Year honors. The Wildcats have gone 36-17 during that span, but key contributors are no longer with the program. Quarterback Clayton Thorson, who's No. 1 in the program in career passing yards and touchdowns is now in the NFL. Thorson's go-to receiver Flynn Nagel, who led the team in catches and receiving yards has graduated. All-Big Ten tackle Rashawn Slater returns up front for the offense. However, the line loses three starters and it doesn't help that Northwestern allowed a league-high, 36 sacks last season. On defense the front seven is in safe hands with the return of All-Big Ten defenders Joe Gaziano and Paddy Fisher. Still, the secondary struggled and finished 109th nationally in pass defense and lose All-Big Ten corner Montre Hartage. The return of safety JR Pace and his four interceptions helps, but the Wildcats are going to face some talented wide receivers and teams with potent passing-attacks this fall. The schedule is more challenging this time around with road games at Stanford, Wisconsin and Nebraska. Not to mention back-to-back home games with Ohio State and Iowa. With all the parity and other teams improving in the Big Ten West it seems like Northwestern may struggle to get to a bowl game this fall.
Washington: There's no denying the Huskies dominance over the Pac-12 the past three years. Three-straight double-digit win seasons, a Playoff berth in 2016 and two league titles solidifies Washington's claim as the beast of the North Division. Chris Petersen has led the Huskies to a winning season each year he been patrolling the sidelines. However, this fall Washington will be without quarterback Jake Browning, who's the program's all-time leader in passing touchdowns and went 39-15 as a starter. Washington also lost its' all-time leading rusher in yards and touchdowns in Myles Gaskin. The running back was the first player in the league to have four-straight 1,000-yards seasons and he earned All-Pac 12 honors last year. Sure-handed tight end Drew Sample is now in the NFL along with All-Pac 12 offensive lineman Nick Harris and Kaleb McGary. On defense Washington has bigger holes to fill with replacing a play maker at every level of the unit. Nose tackle Gaines Adams was a first team All-Pac 12 performer. Linebacker Ben Burr-Kirven was the Pac-12's Defensive Player of the Year and led the league in tackles. Defensive backs Taylor Rapp and Byron Murphy were first team All-Pac 12. Rapp was an NFL second-round draft pick and Murphy tied for second in the Pac-12 with four interceptions. Although Washington has talented players ready to step up Petersen will face his toughest coaching challenge to date with finding replacements for all those studs from both sides of the ball. The North division will be much tougher to win this this fall with California, Stanford and Oregon expected to be vastly improved.
North Carolina State: Like Washington, NC State was another Power Five program that had a roster full of NFL talent, but will be a completely different team this upcoming season. First off, the offense will be without quarterback Ryan Finley, who's No. 2 on the school's all-time passing yardage list and earned first team All-ACC honors. Dave Doeren must also find replacements for star receivers Kelvin Harmon and Jakobi Meyers. The dynamic duo combined for 173 receptions, 2,233 yards, 11 touchdowns and both earned first team All-ACC.  Not to mention the offensive will need to be revamped after the loss of tackle Tyler Jones and center Garrett Bradsbury. Jones was a first team All-ACC performer and Bradsbury was the 18th overall pick in this year's Draft. The Wolfpack had the No. 2 passing-attack in the ACC last season and allowed only 11 sacks, which was also second-best in the league. It's highly unlikely NC State's offense will put up video game numbers again this fall with the void of experience, leadership and production. The team will rely heavy on their defense to carry the load with eight returning starters from a unit that finished No. 2 in the ACC against the run and No. 4 in points allowed. Still, the schedule is favorable enough for Doren to have his sixth-straight winning season with the program, but a third-straight nine-win campaign likely won't happen.
West Virginia: Last year the Mountaineers were 8-1 and No. 7 in the AP poll before ending the season on a three-game losing streak. Dana Holgorsen surprisingly left the Power Five program for a Group of Five school and now Neal Brown will try to right the ship. Holgorsen didn't leave the cupboard bare, but the talent level has drastically decreased, especially on offense with all the departures. Quarterback Will Grier nearly thew for 3,900 yards, 37 pass touchdowns and earned second team All-Big 12 honors. He's now suiting up for the Carolina Panthers. Receivers David Sills V and Gary Jennings combined for an eye-popping 119 receptions, 1,903 receiving yards and 28 touchdown catches. Sills V earned first team All-Conference honors along with tight end Trevon Wesco, who's also gone. Tackle Yodny Cajuste lead the charge up front for West Virginia, earned first team All-Big 12 and must be replaced. Too many holes to be filled on offense for the Mountaineers to average over 40 points per game again and maintain their position as the No. 2 offense in the Big 12. Brown is hoping West Virginia will be able to rely on its' defense. However, the unit will be missing a key piece up front in nose tackle Kenny Bigelow Jr., who was an All-Big 12 performer and anchored the Mountaineers' defensive line. Not to mention West Virginia will be without its' leading tackler in linebacker David Long Jr., who had 111 stops last season and earned first team All-Big 12. The Mountaineers are going through a culture change with Brown at the helms and it'll take time for everyone to gel together. That transition along with a challenging non-conference schedule means West Virginia may struggle getting to bowl eligibility by the end of the season.