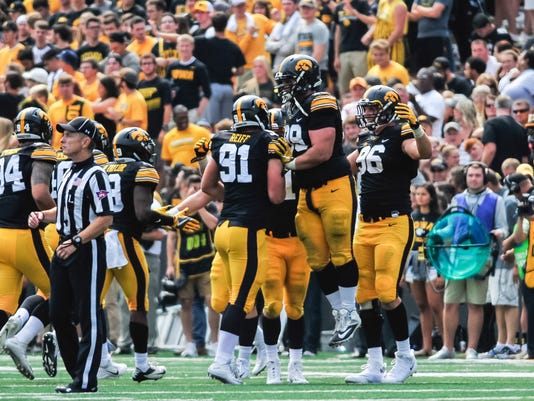 IOWA CITY, Ia. — Three years ago he arrived on campus as a 215-pound defensive end, but after adding on sixty pounds and holding down the trenches for Iowa the past two seasons the defensive tackle is excited for his senior year.
Last season the Hawkeyes' defense finished No. 2 against the run in the Big Ten, 11th nationally and they want to keep the wheels rolling up front despite losing a few seniors from the unit.
The Hawkeyes are in their third week of summer practice and the defensive line has been adjusting to a new scheme after Kelvin Bell replaced Reese Morgan this off-season. Reiff has over two years worth of starting experience and the South Dakota native likes the talent that surrounds him along the interior.
The players are trying to soak up Bell's scheme like a sponge. The unit again wants to go eight-deep up front, establish depth to where they can rotate players in and out and keep everyone fresh instead of worrying about fatigue.
"We've been doing more group activities, just learning more of the ins and outs of the defense," Reiff said. "Not nothing necessarily that we didn't do, we're just taking a little bit different approach and I think it's been helpful for a lot of guys."
Reserve defensive linemen such as Noah Shannon, Daviyon Nixon and Austin Schulte been taking reps with the rest of the starters. They all have impressed Reiff with how much they've learned in the film room and on the field in a short period of time.
"We got a good group of young guys that really stepped up this past spring and really did a good job," he said. "Those guys all have come a long way, it's exciting to see that and I'm excited for them."
Reiff wants to improve on his 25 tackles and two sacks over the past two seasons. The six-foot-three, 277-pounder been working on getting stronger in the weight room and becoming a better person on and off the field. The 23-year old has learned from his own mistakes as a student-athlete, his knowledge of the game continues to grow and he feels it has helped him become a better leader in terms of guiding the younger defensive linemen.
"This is a tight-knit group and I think we've all done a really good job at setting our expectations high for each other," Reiff said. "Its been a great two weeks that we got under our belt going into the third week and I think everyone been doing pretty well."
Each defender along the interior continues to push one another and Reiff has enjoyed every minute of it. Reiff feels he's versatile enough to contribute inside and on the edge. The former three-star prospect was recruited as an edge rusher, but Reiff can't imagine playing no other position than defensive tackle. To him there's nothing like clogging up the middle and stopping opposing offenses' rushing attack before it gains any momentum.
As for now the senior will continue to lead by example and guide his fellow teammates through summer ball all the way up to fall camp. Reiff feels good about the guys in the d-line room, believes the unit has the potential to dominate this upcoming season and understands that it's all a process on becoming a better football player.
"It's all about studying the defense and improving my knowledge and studying opponents," he said. "I can improve on all of that and those are my goals as of right now."