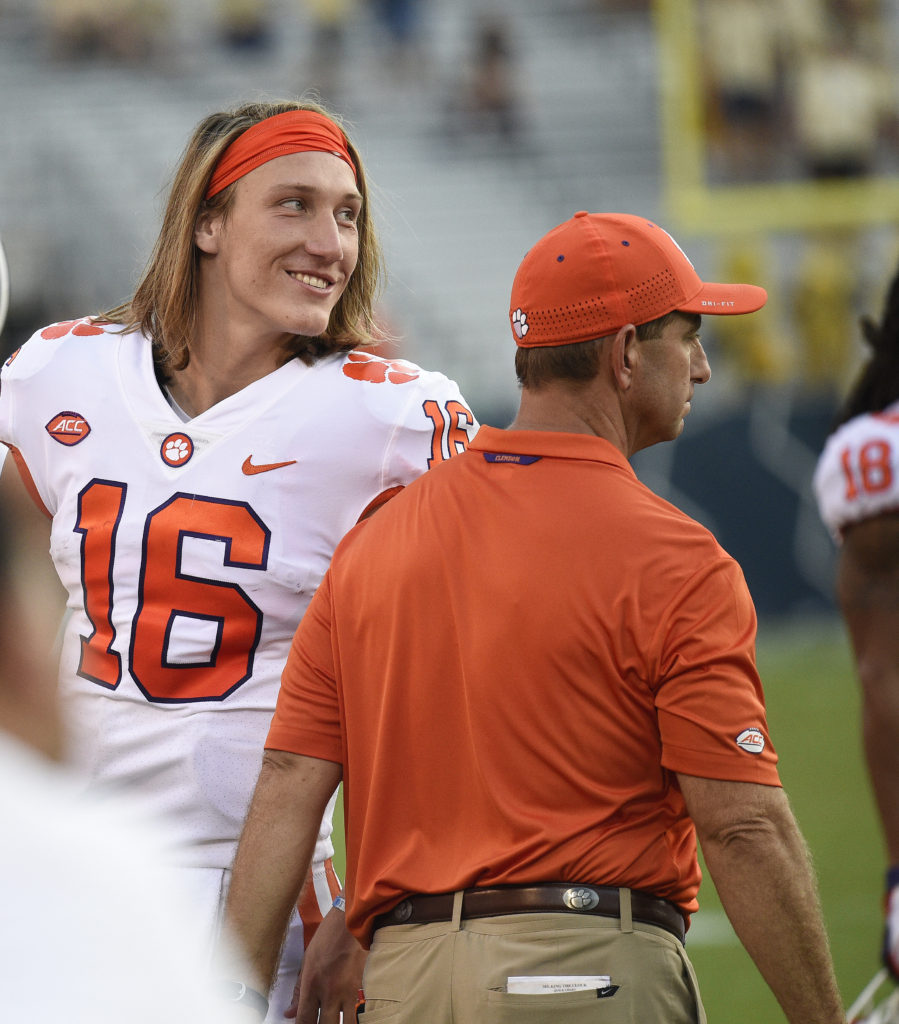 Some of the hardest choices coaches make throughout their career is picking the teams' starting signal-caller.
Whenever there's quarterback competition there will also be quarterback controversy. Swinney played musical chairs with his quarterbacks four games into the year and eventually chose a true freshman over the hometown kid who went 16-2 as a starter.
Lawrence was Clemson's top recruit this year from a Top-10 class and showcased his skills immediately. The six-foot-six, 215-pounder had to split snaps through the Tigers' first four games and threw for 600 yards and nine touchdowns. Those stats were enough for Swinney to give Lawrence the nod and Kelly Bryant decided to transfer.
Lawrence suffered concussion-like symptoms early on during game five against Syracuse and the team won with another freshman quarterback. Since the Tigers win over the Orange Lawrence been the team's primary starter, and has yet to throw an interception. He has 797 yards through the air and seven touchdowns in the last three games. The Tiger's offense is averaging a league-high 44.1 points per game, including 53.3 over their last three. Clemson remains undefeated at 8-0 and secured a spot in the Top-Four of the first College Football Playoff Rankings.
Clemson's offense was a liability in close games when Bryant was at the helms. The Tigers look more lethal with Lawrence behind center. He has great chemistry with receivers Tee Higgins and Hunter Renfrow. Now the offense truly compliments the team's great defense.
Clemson absolutely demolished Florida State last week and play the worst team in the conference this Saturday. The Tigers road win at Texas A&M and beating a ranked Syracuse squad should help their resume. Clemson also travels on the road in two weeks to face a Boston College team that's is currently ranked in the AP Top-25.
There's no doubt that the Tigers are in a great position at this point and have been battle-tested. The opportunity  is there for the team to have another magical season if the Tigers can clinch their fourth-consecutive berth in the ACC Championship Game. It's safe to say that Clemson may be on a crash-collision course with Alabama.
Swinney been in this position before and lets the pressure roll off of his shoulders. After all, Swinney and Nick Saban are the only Power 5 coaches that been in the last three College Football Playoff Semifinals. The coach now faces another tough task with keeping his players focused and not distracted from all the media love. Clemson has all the momentum and look to keep the train rolling.