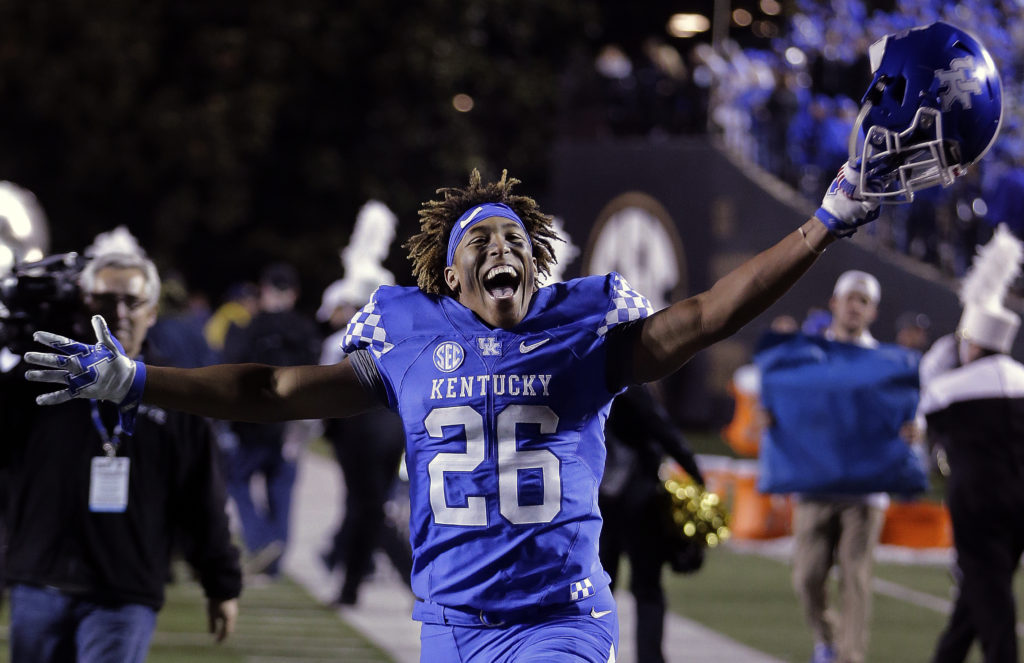 He's a two-time 1,000-yard rusher, has 41 career rushing touchdowns and the biggest reason why Kentucky is 6-1 for the first time since 1977.
Snell Jr. may be on top of the world at the moment, but life as a student-athlete didn't start off on the red carpet for him. Snell Jr. wasn't a highly-touted recruit and was perceived as a three-star running back by most recruiting services out of high school. However, the Ohio native proved to be a hidden gem and became a learner in the film room and was blue-collar on the field. Snell's work-ethic got him into the starting lineup and he finished with 1,091 yards and 13 touchdowns as a true freshman.
The five-foot-11, 223-pounder followed up his freshman campaign with 19 touchdowns on the ground, to go along with 1,333 yards and he earned First Team All-SEC honors as a sophomore. With the Wildcats starting over from scratch at the quarterback position entering the 2018 season, the naysayers were expecting a drop off. The only positive aspect for the team was that Snell Jr. was returning.
He had already made himself a household name in the SEC and everyone knew with Kentucky's quarterback inexperience that he would have a huge target on his back this fall. Still, the junior is leading the SEC in rushing through seven games, averaging 124 yards on the ground and Kentucky is No. 2 in the league in rush yards per game.
Kentucky is coming off back-to-back seven-win seasons and the program is trending up in 2018. Kentucky beat No. 9 Florida at the Swamp for the first time since Ronald Reagan was President, have matched its' conference win total from the last two seasons and currently ranked No. 12 in the Associated Press Poll.
Snell Jr. has also made life easier for sophomore signal-caller Terry Wilson. The quarterback isn't asked to do much, but to be a great game-manager and whenever in doubt he has a reliable safety net to hand the ball off to. Quarterback play has been spotty at best for the Wildcats as expected, but Wilson helps out in the teams' rushing attack and has nearly 400 yards on the ground.
With the way Snell Jr. been running the ball every game, he should definitely be a finalist for the Doak Walker Award. Kentucky controls its' own destiny and the game against Georgia in two weeks could be for the SEC East. In the meantime, expect Snell Jr. to conduct himself with heart, class and as a leader in post game interviews. It's easy to see that this is a different Kentucky football team and they need to enjoy Snell while he's still playing because it's doubtful if he'll return for his senior year with millions of dollars awaiting him in the NFL.