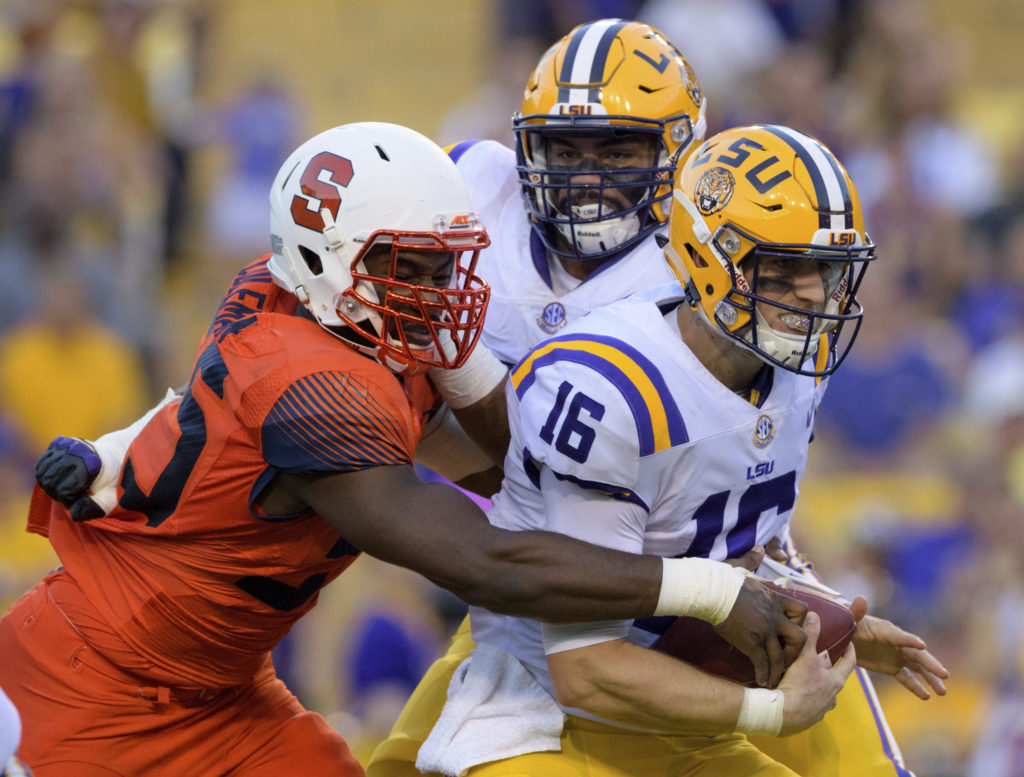 Its' been a long journey, but head coach Dino Barbers got Syracuse on the brink of a breakout year. Last season the Orange lost heart-breaking road games to NC State, Florida State and Miami, but did pull off a milestone upset in the Carrier Dome against Clemson. For 2018 Syracuse is experienced on both sides of the ball with 14 total starters returning, led by senior signal-caller Eric Dungey. Barbers said it himself that after those close losses no one would be raising their hands to play his team and this season is his chance to back up those words.
Team strengths: Offensive tempo. Syracuse likes to run around 90 plays per game on offense, giving its players more opportunities to score points and at the same time wear down defenders and cause substitution errors for the opposing defense. This scheme worked to perfection during the Clemson upset. It all starts up front with the offensive line and Syracuse returns five experienced starters who've combined for 77 career starts. Dungey is experienced enough to make all the right reads and calls from the line of scrimmage and once this offense starts clicking on all cylinders it's very fun to watch.
Team weaknesses: The defense. It's no mystery about the Orange struggles on defense. Syracuse was dead last in the ACC and 98th nationally in scoring defense in 2017. The players missed several tackles, gave up big plays, created very few turnovers and looked confused at times of wear to line up and who to cover. With six starters returning, including three along the defensive line, the Orange hopes to seal up some of those major leaks and make less mistakes this fall.
Players to watch: Quarterback Dungey, running backs Dontae Strickland and Moe Neal and defensive end Alton Robinson. Dungey showed what caliber of dual-threat he could be after throwing for nearly 2,500 yards and adding nearly 600 on the ground for 23 total touchdowns. He will be without his top two wideouts from last season, but a great quarterback makes players around him better, so this season will prove if Dungey is worthy of that. Running backs Neal and Moe were equally productive for the Oranges' ground attack last season, combining for 970 yards rushing and five touchdowns. The duo will split carries again this fall. Robinson tallied 30 tackles, including six for loss and five sacks last season. He will be the leader up front and needs to improve his production for the defense to get better.
The schedule: Manageable. Besides the for sure losses to Miami, Florida State and Notre Dame, Syracuse has a chance to win every other game. Syracuse gets a break in the conference schedule by avoiding Virginia Tech and Miami from the Coastal division.
My take: For Barbers' third year everything is looking up for Syracuse. Having a senior quarterback and a defense filled with experienced players, the Orange should garner their first winning season and bowl appearance since 2013.