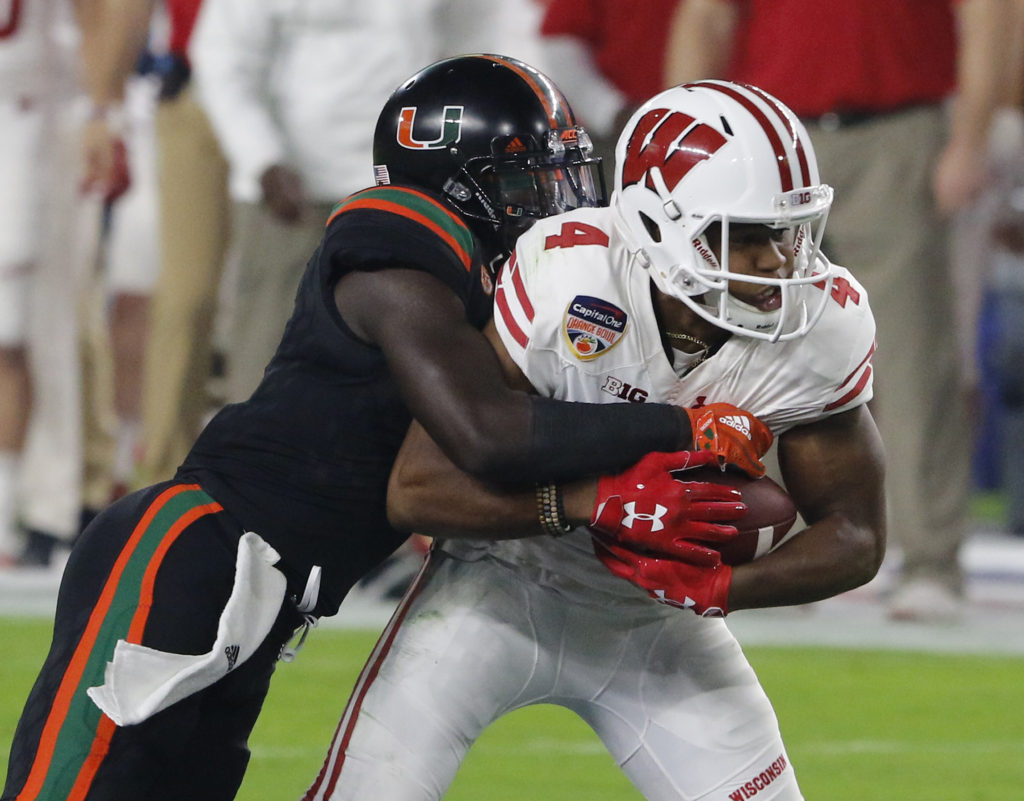 Head Coach Marc Richt accomplished something for his alma mater last season that his two predecessors failed to do. After being in the league for 14 years, it only took two for Richt to land the Hurricanes a berth in their first ACC Championship Game. Culture changes like the "Turnover Chain," has brought a lot of swagger back to "The U." Richt also received a contract extension during the off-season that runs through 2023. The talent level on both sides of the ball is of the upper-echelon. Six starters return on offense, including a senior signal-caller and three offensive linemen. The defense returns seven starters from a unit that finished 28th nationally in points allowed and 38th in total yards allowed. Although the Hurricanes started out the season 9-0, they ended it on a three-game losing streak. The entire team is ready to get back to business and start the season off by making a statement in the season-opener against LSU.
Team strengths: The offensive running game. Miami is loaded in the backfield with three running backs vying for playing time. Travis Homer is the projected starter and he rushed for nearly a 1,000 yards and eight touchdowns last season. Dee Jay Dallas has been pushing him in fall camp and want more carries. He rushed for 217 yards in 2017, with three touchdowns and averaged 5.3 yards per carry. Don't forget about Rosier. The junior quarterback showed his mobility and provided nearly 500 yards on the ground and five scores. The backfield will be running behind an offensive line that features three starters. Tyree St. Louis, Tyler Gauthier and Navaughn Donaldson have combined for 48 starts and should open holes for Homer, Dallas and Rosier to run through.
Team weaknesses: Special teams. Miami will be going with freshman kicker Bubba Baxa to handle field goal and extra point duties. He struggled his senior year in high school, missing six field goals on 10 attempts. Sophomore punter Zach Feagles was inconsistent at best last season and averaged only 38.6 yards per punt.
Players to watch: Quarterback Rosier, wide receiver Jeff Thomas, defensive end Joe Jackson, linebacker Shaquille Quarterman and safety Jaquan Johnson. Rosier had a solid season for the Hurricanes and threw for 3,120 yards and 26 touchdowns with 14 interceptions. He gives 100 percent on each play and when the pocket breaks down he's mobile enough to get first downs. Richt named Rosier his starter for the season-opener against LSU. Thomas caught 17 balls for 374 yards and two touchdowns last season as a true freshman. The Miami coaching staff have raved about him throughout fall camp and believes he'll be the teams' best play-maker on offense. Jackson was a terror in opposing teams' backfields, tallying 59 tackles, including 11.5 for loss and 6.5 sacks. Quarterman finished second on the team in tackles with 83, including seven from behind the line of scrimmage and 2.5 sacks, earning All-ACC third team honors. Johnson was the Hurricanes superman on defense. He had a team-high 96 tackles, including 3 for loss, a sack and four interceptions and earned second team All-ACC honors.
The schedule: Favorable. Miami has a huge season-opener against LSU and get Florida State at home. There's no Clemson on the schedule and the Hurricanes toughest game on the road will be at Virginia Teach late November.
My take: This might be the Hurricanes year to make some big noise nationally. The team has a chance to start off the season with a bang if they beat LSU. This team is hungry and wants to forget about the three-game losing streak from 2017. I'd be surprised if the Hurricanes aren't in the ACC Championship game for a second straight year.