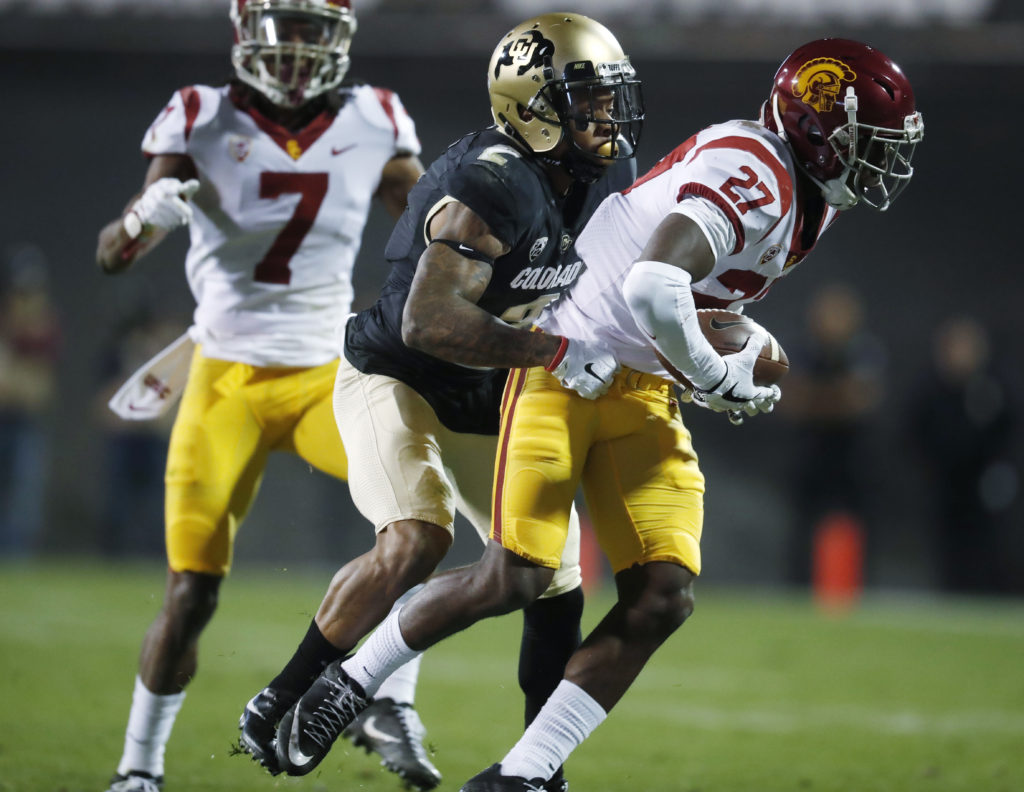 After a year removed from a 10-win campaign and a berth in the Pac-12 championship game in 2016, Colorado followed it up with a 5-7 season. The Buffaloes are going through a huge overhaul on offense for 2018, returning only three starters. Junior quarterback Steven Montez returns and will be a nice piece to build the team around. His dual-threat ability is what makes him dangerous. The Buffaloes must replace their 1,000-yard rusher, several receivers and three starting offensive linemen. On defense Colorado returns six starters, but the unit was terrible in 2017, finishing 110th in total defense.
Team strengths: An experienced quarterback. With fresh new faces on offense for the running backs, receiving corp and offensive line, it's significant to have leadership and production from the signal-caller. Montez threw for nearly 3,000 yards and rushed for 338 with 21 total touchdowns last season.
Team weaknesses: Young and inexperienced offensive skill position players and defensive secondary. The Buffaloes lost receivers Shay Fields, Bryce Bobo, Devis Ross and running back Phillip Lindsay to graduation. They all combined for 174 receptions, 2,081 yards and 12 touchdowns. Meanwhile returning receivers Juwann Winfree, Laviska Shenault, Jay MacIntyre along with tight end Chris Bounds all combined for 74 catches, 991 yards and six scores from 2017. That's a huge drop off in experience and production from last season and will have a lingering effect on this years' offense. No running back on the roster has any significant playing experience. The secondary finished 95th nationally in pass defense, allowing 242.6 yards per game and only return two starters this fall. Look for those numbers to get no better or maybe even worse because Colorado will face some teams this season that can light it up through the air.
Players to watch: Wide receiver MacIntyre, linebackers Drew Lewis and Rick Gamboa and safety Evan Worthington. MacIntyre is the teams' leading returning receiver in catches and reception yards and scored two touchdowns. Lewis and Gamboa combined for 236 tackles and 2.5 sacks. The duo will set the tone for this defense in 2018. Worthington finished third on the team in tackles with 86 and picked off three passes.
The schedule: Favorable. The Buffaloes starts off their first two games of the season against their traditional rivals, including old Big 8 foe Nebraska on the road. The home slate contains some winnable games but back-to-back road trips to USC and Washington will for sure be losses.
My take: Colorado has to replace too much on offense to put up any points on the scoreboard that'll make their games competitive shootouts with other conference foes. The defense will finish in the bottom half of the Pac-12 again. This is definitely a rebuilding year and the Buffaloes won't make it to a bowl game for a second-straight season.