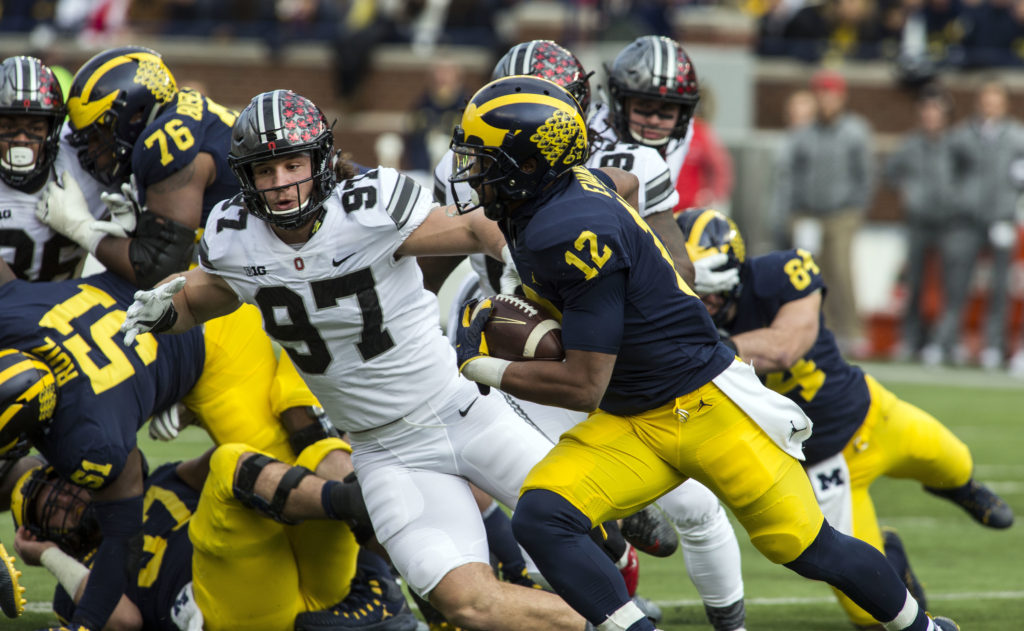 The last 30 days has been a whirl-wind for the "The Ohio State University." Now that the verdict has been revealed and suspensions handed down, its finally time to get down to the football side of things. Everyone's expecting the Buckeyes to simply reload and not rebuild, but that's easier said than done. You have to understand what the Buckeyes lost before predicting they'll just dominate in 2018. You don't lose a record-breaking quarterback, multiple key contributors of a senior-laden defense and a fall camp filled with off-the-field distractions and expect to repeat as conference champs. Still, the roster is loaded with four and five-star talent and most of the coaches are still intact, so expect Ohio State to be in the mix for another conference title in 2018.
Team Strengths: The run game on offense. True sophomore J.K. Dobbins and junior Mike Weber provide the Buckeyes with one of the best rushing tandems in the Big 10. Dobbins rushed for over 1,400 yards last season and Weber had a 65-yard touchdown run in the spring game. Three starting offensive linemen return and will make sure those holes stay open for the duo to run through.
Team Weaknesses: Replacing key players on defense and off-the -field distractions. Sam Hubbard, Tyquan Lewis, Chris Worley, Jerome Baker, Dante Booker, Denzel Ward and Damon Webb were the best at their positions last season and now they're all gone. That's 319 tackles, 45 tackles for loss, 19.5 sacks and eight interceptions in the rear-view mirror. Even projected starting linebacker Tuf Borland is out with an injury until early October. Say what you want about all the talent on defense that's ready to step up, but you can't replace experience, production and most importantly leadership, and those departed players provided this team with all of that. The off-season mess with the coaching staff and administration will have a domino effect. If the Buckeyes didn't have a target on their backs before, they sure will now and the new perception of the program has recruits already decommitting.
Players to watch: Quarterback Dwayne Haskins, running back Dobbins, defensive end Jeremey Bosa and strong safety Jordan Fuller. Everyone saw Haskins lead the Buckeys on three scoring drives after filling in for an injured J.T. Barrett midway through the third quarter against Michigan last season. Dobbins had six 100-yard rush games and eight total touchdowns as a true-freshaman. Fuller is the teams' leading returning tackler and Bosa had a jaw-dropping 16 tackles for loss last season and will be a first-round NFL draft pick in April.
The schedule: Challenging. Suddenly game three against TCU doesn't look like a cakewalk now that Urban Meyer won't be available. Penn State and Michigan State will both be out for blood when the Buckeyes come visit and Jim Harbaugh will throw the kitchen sink when the Wolverines arrive in Columbus for the season finale.
My take: Normally a defense will carry a team while the new signal-caller gets adjusted, but that side of the ball will be a liability for the Buckeyes in 2018. Ohio State still lacks play-makers at receiver, plus a center like Billy Price is irreplaceable. Those small chinks in Ohio States' armor will give the team two regular season losses and a second straight year of missing out on the College Football Playoff.