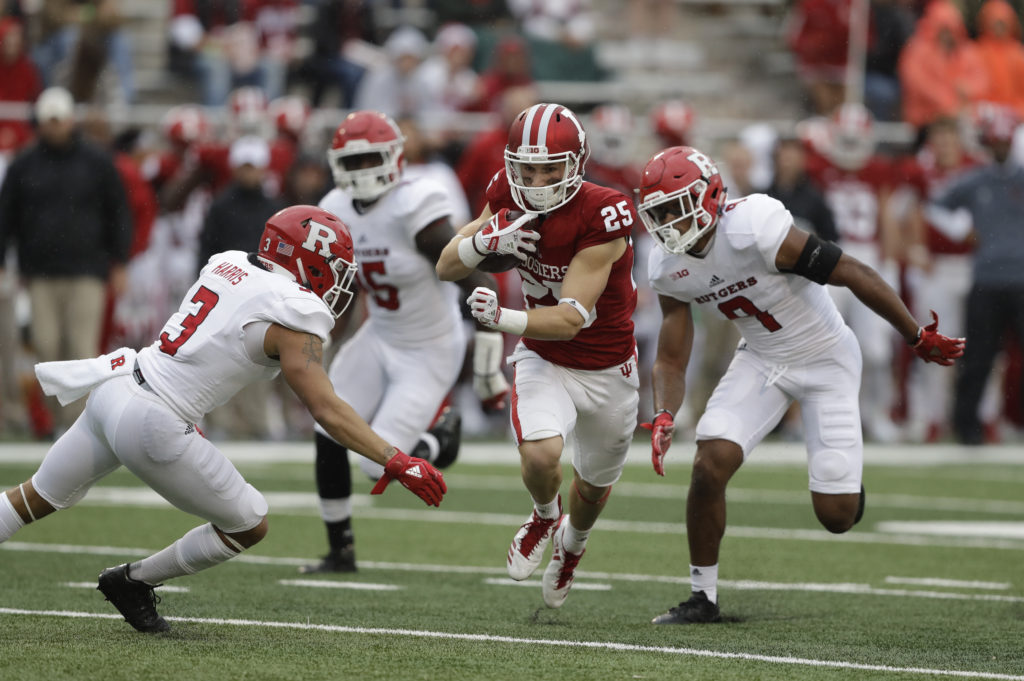 The Hoosiers were one win away from becoming bowl-eligible last season and watched their rival Purdue take that win and the old oaken bucket. The defense was the biggest surprise last season and finished 17th nationally in pass yards per game and and 27th in total defense. Turnovers on offense proved to be detrimental and the team went on a mid-season slump, losing four games in a row. The Hoosiers were inconsistent at quarterback, but freshman Peyton Ramsey emerged, took the reigns of the offense and put up decent numbers as a part-time starter.
Team Strengths: Rush offense. Running backs Morgan Ellison and Cole Gest combined for 1,165 yards and seven touchdowns last season. Ramsey added another 347 on the ground and three scores. With four starters returning up front to open up holes, expect the Hoosiers to play more of a balanced attack in 2018.
Team Weaknesses: The run defense. Indiana ranked 61st nationally against the run giving up nearly 161 yards a game. That number will worsen this fall with only one starter returning in the front seven. Opposing offenses will run the ball at will and push the defensive line around.
Players to watch: Quarterback Ramsey, running back Ellison and defensive tackle Jacob Robinson. Ramsey started four games last season and threw for 10 touchdowns and five interceptions. His completion percentage ranked second in the Big 10 and was tied for 13th nationally. He will be the Hoosiers' full-time starter this fall, but is still recovering from a knee injury. Ellison was a three-star recruit in 2017 and led the team with 704 rushing yards and six touchdowns. He had two games where he rushed for over 100 yards against Georgia Southern and Rutgers. Ellison will be the lone starter at running back this fall. Robinson will be the anchor for the big boys up front on defense in 2018. He had 26 tackles, including seven from behind the line of scrimmage and four sacks last season.
The schedule: Favorable. The non-conference slate is definitely winnable. Indiana gets Michigan State, Iowa and Penn State at home. The only likely losses will be on the road at Ohio State and Michigan.
My take: The pieces are there on offense for the Hoosiers to score more points this fall. However, most of the Hoosiers' games will likely be shootouts due to a depleted defense. The schedule helps and with a couple of breaks and a little luck Indiana might be bowl-eligible by seasons' end.